Arvind Kejriwal 'accepts' challenge to take on Narendra Modi in Varanasi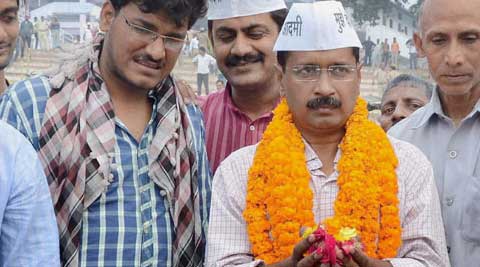 Kejriwal appealed to people to ensure that Modi loses from Varanasi and Rahul Gandhi gets defeated from Amethi so that both the NDA and the UPA receive a jolt. (Express photo)
Arvind Kejriwal on Tuesday announced his decision to take on Narendra Modi in the upcoming Lok Sabha elections in this temple city while appealing for support to defeat the BJP's Prime Ministerial candidate.
The Aam Aadmi Party leader made the announcement at a rally Varanasi this evening after a day-long roadshow around teh city during which an egg and ink was thrown at him at two places.
While declaring his candidature, he attacked Modi, accusing him of being an "agent" of industrial houses and said that a myth had been perpetuated about the development in Gujarat.
He also targeted Rahul Gandhi, saying the 'shahenshah' (emperor) of Congress was also like Modi.
Kejriwal, who had declared earlier that he would contest against Modi from wherever he is fielded, announced his decision after seeking the views of his supporters at the rally in his typical style.
ALSO READ: Congress, BJP nominees in Gurgaon have more assets than declared, claims AAP
"I want to ask you whether I should contest from Varanasi against Narendra Modi. I am ready to accept this challenge," the former Delhi Chief Minister announced after a day-long road show in this constituency of Uttar Pradesh.
"Why do I want to contest from Varanasi, it is because at a time when leaders look for safe seats to fight elections, I take on them to defeat them," he added.
Attacking Modi, Kejriwal said that a myth about Modi having developed Gujarat was being perpetuated by a section of media while in reality the BJP leader was gifting away farmers' land to industrialists and followed policies which were against small businessmen.
Kejriwal appealed to people to ensure that Modi loses from Varanasi and Rahul Gandhi gets defeated from Amethi so that both the NDA and the UPA receive a jolt.
"These are both armies — one named UPA and another named NDA. While Rahul Gandhi is the 'shahenshah' (emperor) of the UPA, Modi is the same for NDA. If you defeat both Rahul and Modi, then these armies will automatically be crushed," he said.
The AAP leader said a vote for Modi would mean that prices would rise manifold, farmers would lose their land leading to suicides, small and medium scale industries would shut down. He said he was saying this on the basis of what he had seen in Gujarat.
Attacking both Rahul and Modi, Kejriwal …continued »