Arvind alleges, Gujarat replies, AAP challenges denial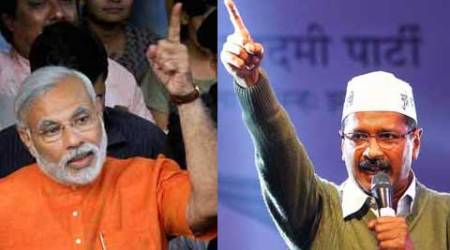 Kejriwal once again questioned the Gujarat growth story.
On Tuesday, Arvind Kejriwal once again questioned the Gujarat growth story. On Wednesday, the Gujarat government issued a point-by-point reply to his charges, while the BJP issued a separate denial. Then the AAP continued the exchange with a rebuttal of the rebuttal. The exchange:
Kejriwal: If Narendra Modi comes to power, farmers will lose their land to industrialists.
Gujarat: The Gujarat land acquisition policy was appreciated by the Supreme Court. Acquisition has been done with the consent of farmers and at the market rate. Gujarat is the only state in India that has not seen farmer agitations against land acquisition.
Kejriwal: 5,874 farmers have committed suicide in Gujarat in the last 10 years.
Gujarat: During his visit to Gujarat, he had said 800 farmers. Kejriwal included living persons among suicides and raised the number to 5,876 within 15 days. The truth is that in the past 10 years, only one farmer has committed suicide in Gujarat.
(According to the figures shared by the Gujarat home department in the assembly, the five years between 2008 and 2013 saw 125 farmer suicides. This was reported in The Indian Express, November 9, 2013 )
AAP: Below is NCRB data… the only authentic data for farmer suicides for the country. On what data the BJP based its press release or the Modi govt its claims we are keen to see. (The figure cited for siides is 564 in 2012).
Kejriwal: Small traders will be out of jobs if Modi comes to power as he will favour FDI in retail.
Gujarat: The BJP is against FDI in retail.
AAP: The BJP is posturing against FDI for now, but Modi is for FDI. In Delhi at a traders' meeting… Modi (asked), why are the traders scared of international competition? This clearly establishes his position.
Kejriwal: More than 60,000 small and medium industries have shut in Gujarat.
Gujarat: Gujarat has 5.19 lakh small and medium industries registered. According to a 2001-02 central government survey, 22 per cent units were shut down, which reduced to 12 per cent in 2006-07 and 5 per cent until March 2012.
(A survey by the Gujarat government showed that about 1,000-odd units had shut down between 2011 and 2012. This was reported in The Indian Express, January 9, 2013)
BJP: Kejriwal is yet again misleading citizens by spreading canards that Modi has written a letter to the government on gas pricing in the KG Basin.
AAP: The BJP press release makes a vague claim, "The standing committee of finance of Parliament headed by Yashwant Sinha has seriously questioned the gas pricing policy…" This says nothing about the BJP's position. The standing committee is that of Parliament, not of BJP. It says nothing of the BJP's prime ministerial nominee's position on gas pricing. A letter from the Gujarat State Petroleum Corporation…. Mr Modi's govt clearly recommends a gas price formula which if you insert the current market price of Brent crude …continued »