'Anti-democratic, intolerant mindset that resists scrutiny'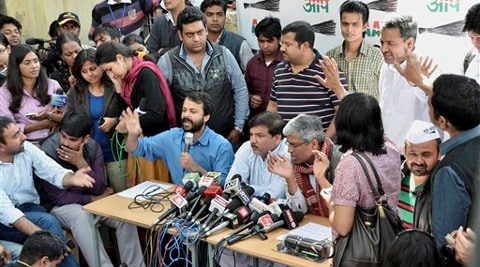 AAP leaders Ashish Khetan (L) Sanjay Singh and Ashutosh speaking to media in New Delhi on Friday. (PTI)
Aam Aadmi Party and its leader Arvind Kejriwal came under fire from journalists' groups for his remarks at a Nagpur fundraiser that some TV channels have been bought over by Narendra Modi to project him as Prime Minister and that he would send media persons to jail if a probe found them guilty.
"I have a video that shows Kejriwal telling one of my reporters "desh mein Modi ki hawa to hai hi (there is a Modi wave in the country). I will air it tonight on my channel," said Rajat Sharma, chairman and editor-in-chief, India TV . "If he himself believes there is a Modi wave in the country why wouldn't TV channels cover it?"
Arguing that Kejriwal loved media when it showered its attention on him, he said: "Now that media is criticizing him for his loss of direction, he has taken to threatening us." India TV was one of the four TV channels Kejriwal's colleague Sanjay Singh alleged had been "paid for". The others were India News and Zee News. AAP also singled out Times Now for what it called running a campaign against it.
According to Times Now editor Arnab Goswami, AAP leaders had been peeved with the channel following its questions about their motives. "AAP stopped participating in discussions on our channel following our hard-hitting questions seeking accountability. They need to ponder over why they ran away from serious discussion and resorted to baseless allegations. Is that the only way left to get noticed?"
Ironically, these same TV channels had been criticised by political parties as well as Press Council of India for their coverage of Anna Hazare movement in 2011 to which AAP owes its genesis. Justice Markendey Katju had, then, alleged that "a large section of media lost its objectivity" in covering the Anna Hazare movement.
Justice Katju had said a section of media did not "maintain detachment" and "most journalists practically became part of the movement".
Ironically, Kejriwal had thanked the media from various public platforms for its role in boosting the movement, then. On being asked if he saw any contradiction in AAP's views on media in 2011 and now, Ashutosh, AAP leader and former TV journalist said: "Media simply did its duty in covering the Anna movement. It was an event that reflected the mood of the people then. Whereas today, media is being coerced and tempted to cover certain things and people. That's paid news. It is criminal."
Senior journalists, however, said it is AAP that is indulging in coercion. "Never ever in my 32 years of experience has a political party threatened to put journalists behind bars," said India TV's Sharma. "Kejriwal is saying I can't take your criticism, and when I have the power, I will put you …continued »