Another blow to Cong as Lucknow unit chief quits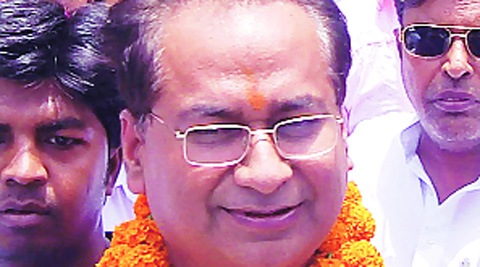 Neeraj Bora
In YET another setback to the Congress and especially its Lucknow candidate Rita Bahuguna Joshi, the party's city president Neeraj Bora resigned all posts and his membership of the party calling the Congress "a total failure" and alleging  "personal agenda being served by party leaders".
Popular like his father D P Bora in the city, Neeraj Bora had been one of the claimants to the Lucknow seat, but the party chose Joshi, MLA and former state president, to contest against BJP candidate Rajnath Singh. Now, Bora said he would support Rajnath.
"I feel that among the candidates who are contesting from Lucknow, Rajnath Singh is the strongest and most honest and has the capability to do a lot of things for this country and the city. I am going to support him and as a citizen my vote is going to him," Bora told The Indian Express.
Amid rumours of his joining the BJP, he clarified, "I am not an opportunist and I have not made a deal with anyone as Congress leaders might say. I am a doctor and for the time being I have decided to work as a social activist" he said.
Joshi called Neeraj Bora "an opportunist who has been bought" and alleged that Rajnath was "indulging in the politics of sale and purchase". "He does not believe in his own cadre and is depending on opportunists from other parties. Neeraj has stooped to the lowest possible level but his exit will not hamper my prospects."
Over the last 15 days, the party has lost several of its leaders and office-bearers, some of whom it has sacked. On April 3, Ramesh Chandra Tomar, the Congress candidate from Gautam Budh Nagar, joined the BJP.
On April 6,  the party expelled Meerut city president Saleem Bharti after he had started campaigning for SP candidate Shahid Manzoor against Nagma. On April 9, the party expelled several leaders in Mau, including district vice-president Ravindra Yadav and former MLA Subhash Yadav, for opposing the candidature of Congress nominee Rashtra Kunwar Singh. Sources say the cadre in other districts too have been opposing party candidates or threatening to quit.
In Lucknow, Bora told The Indian Express, "I was feeling uncomfortable. The Congress has been a total failure in the past five years. People are not happy with the Congress and I was not happy with the way the organisation was functioning and certain leaders serving their personal agenda. Thus, before they put the blame on the organisation for their failure, I decided to leave."
Bora, 46, runs a hospital on Lucknow-Sitapur Road. Though he has been a Congress leader for most of his political career, he and his father had joined the BSP in 2006. In 2007, he contested the Lucknow (west) assembly seat on a BSP ticket and lost it to the BJP's Lalji Tandon. Later, he was given a minister's rank and made chairman of the UP Bridge Corporation Ltd by then chief minister …continued »