Ancient Shaiva mutt pontiff joins 'Jaya he' chorus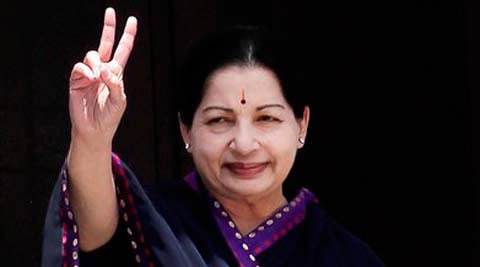 This latest addition to the 'Amma-for-PM' bandwagon is the pontiff of a centuries-old Shaivite Mutt in southern Tamil Nadu, who was last in the news for anointing controversial guru Nithyananda as his successor. PTI
At the AIADMK election campaign meetings in the southern parts of Tamil Nadu, a rather colourful old man clad in saffron and adorned with rudraksha beads strung in gold stands out in stunning contrast to the sea of cadre sporting dhotis and saris in white and red party colours.
This latest addition to the 'Amma-for-PM' bandwagon is the pontiff of a centuries-old Shaivite Mutt in southern Tamil Nadu, who was last in the news for anointing controversial guru Nithyananda as his successor.
Sri Arunagirinatha Gnanasambandha Desigar of Madurai Adheenam, a mutt in Madurai said to be more than 1,500 years old, was naturally the standout speaker during the party's campaign in Theni recently.
True to his spiritual inclinations, the speech was interspersed with quotes from Shaiva literature, Tamil treatise Thirukkural, the Quran and the Bible, in Tamil, Sanskrit, Malayalam, English and Arabic. But it was not exactly limited to a sermon.
The seer attacked Prime Minister Manmohan Singh and Planning Commission deputy chairman Montek Singh Ahluwalia for the state of the economy; the Congress party for its disregard for Tamil sentiments; and China for aggression on the border. Fuel price rise, inflation, poverty and corruption too were a part of his speech.
Repeatedly lauding AIADMK general secretary and Chief Minister J Jayalalithaa, the pontiff predicted that she will become prime minister soon, which was welcomed with loud cheers by the Amma-faithful on and off the stage. She was the only one capable of bringing peace and tranquility in the country, without which religion cannot flourish, he said.
A religious figure being an active campaigner has raised a few eyebrows in Dravidian Tamil Nadu that swears by rationalism. Especially at a time when its rivals dub AIADMK as the BJP's B team in Tamil Nadu for its reluctance to criticise the NDA during election campaigns.
One of the first to question the seer's involvement in politicking was in fact from the saffron camp. Talking to reporters Friday, BJP state president Pon Radhakrishnan, himself a candidate from Kanyakumari where Arunagiri had campaigned, said it was not proper for a seer to associate himself with political campaigns.
About a month ago, the seer had called on Jaya at her residence, like the many community leaders whom politicians were enthusiastically courting ahead of the polls. But unlike the others who offered support, Arunagiri volunteered to campaign for her party. The actual participation came only a few days back.
Arunagiri is a controversial figure who was last in the limelight two years ago for his questionable decision to anoint a more controversial figure, Nithyananda, as his successor. …continued »