Amma wave dwarfed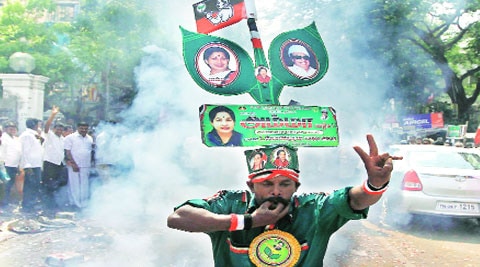 A supporter of Jayalalithaa celebrates in Chennai on Friday. ( Source: Reuters )
The AIADMK won 37 of the 39 constituencies in Tamil Nadu to emerge as the third largest party in the Lok Sabha. But the even bigger Modi wave rendered the impressive tally insignificant in the final picture.
As much as it is about the "lady wave" that won an unprecedented number of seats for a state party, the story is also about the complete decimation of the DMK, the regional party which was an influential minority at the Centre for about a decade. Its smaller allies IUML, MMK, VCK and PT, also met the same fate.
The Modi wave that swept other parts of the country was invisible in Tamil Nadu. The BJP alliance won two seats, but these victories could be attributed to a combination of caste polarisation and individual candidates.
Despite sweeping the polls with a strike rate of 95 per cent, the big loser, ironically, is AIADMK leader J Jayalalithaa. As the results showed, Jaya was right in her gamble to go it alone. She had repeatedly pointed out during her campaign that the party should win big to play a key role at the Centre. The people delivered — the victory is the biggest ever by any individual party in Tamil Nadu, eclipsing even party founder MG Ramachandran's best.

But her clout in the next dispensation depended on the performance of the lead player. In this case, the Amma wave was overpowered by the Modi wave. From hoping to corner some of the important portfolios at the Centre, AIADMK's members may now have to be content with the MPLAD funds. However, the AIADMK has 10 members in the Rajya Sabha, where the BJP is not as strong. So the two parties may still work together.
On the other hand, the DMK completed a hat-trick of rout after its defeats in the Assembly and local body polls three years ago. None of the party's candidates managed to win, not even heavyweights like T R Baalu in Thanjavur, A Raja in Nilgiris and Dayanidhi Maran in Chennai Central. Being a dynastic outfit, this setback will not have any impact on party president M Karunanidhi or his son and heir-apparent M K Stalin, though the latter will find it more difficult to re-build the party to fight Jaya in the 2016 Assembly polls.
The much-touted front comprising the BJP, DMDK, MDMK, PMK, KMDK, IJK and NJP, claiming to represent an alternative to the two Dravidian parties, remained a non-starter, with all but two of its candidates losing the elections. State BJP president Pon Radhakrishnan (Kanyakumari) and PMK leader Anbumani Ramadoss (Dharmapuri) were the only two who won.
Among the prominent losers from the NDA camp was MDMK general secretary Vaiko, who had emerged as the loudest voice for …continued »