Amid Trinamool vs Left vs BJP, Cong's space in Bengal shrinks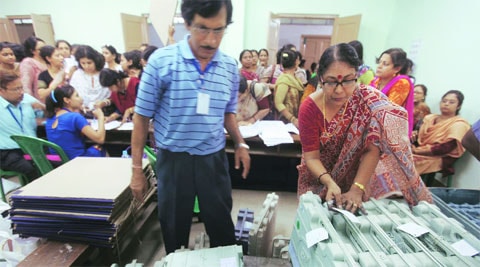 EVMs being readied in Salt Lake, Kolkata. Partha Paul
Rahul Gandhi may have sent out feelers to the Trinamool Congress during his Shahid Minar speech on Thursday but as his party battles anti-incumbency and corruption charges across the country, in West Bengal it has also to contend with the legacy of an earlier stint with the state's ruling party.
While the Congress is talking about bettering its 2009 tally of six seats, a combination of factors, including inaccessibility of its sitting MPs and a skeletal party organisation in southern and central Bengal, means the only seat it is looking at as a certain win is Baharampur where state Congress chief Adhir Ranjan Chowdhury is fighting singer Indraneel Sen.
Even in Baharampur, often referred to as his "fortress", Chowdhury is not leaving anything to chance, visiting every block and every village, clocking 16- to 18-hour days. On the other hand, while at least three of its candidates are from a Chhatra Parishad (student wing) background, the recent defection of the CP president to the TMC has also rendered that wing less effective than the Congress would have liked it to be.
Says a Congress insider: "When we were in alliance with Trinamool, we made too many compromises, surrendered ourselves entirely, especially in the southern and central parts. On the one hand, there are widespread terror tactics adopted by the Trinamool Congress across the state; on the other, we have hardly an organisation worth its name in these parts. Beyond a radius of 100-200 km around Kolkata, there is hardly any Congress organisation. That is a gap we are still struggling to fill."
Besides, the unprecedented response Narendra Modi seems to have generated has shrunk the opposition space in West Bengal for an already squeezed Congress.
"There is resentment against the Trinamool but the Congress has failed to grab that space for a third alternative after the Trinamool and the Left. The BJP, which hardly had a presence, seems to have parachuted out of nowhere," says a Congressman.
Till well into the fourth phase of the elections, the Chhatra Parishad had not quite got its act together in canvassing even for the candidates who have a CP background. Pamphlets had not been printed and the students were in a disarray. Says a senior state functionary, "Barely six months before the elections, the president defected to Trinamool. The vice president was given charge but the clogs are yet to be in place after the forced change of guard."
There are also murmurs of criticism for Rahul's organisational revamp in the youth and student wings. The attempt to democratise, say sources, has come with an unexpected burden. Says a source: "There is an element of competition now within the organisation. There is less trust and less of a team approach."
Of the six seats where the Congress has sitting MPs, one is Jangipur where Abhijeet Mukherjee won by just over 50,000 votes in byelections …continued »