Amid the waste of Ahmedabad's Muslim ghetto, BJP campaigners skip any mention of Modi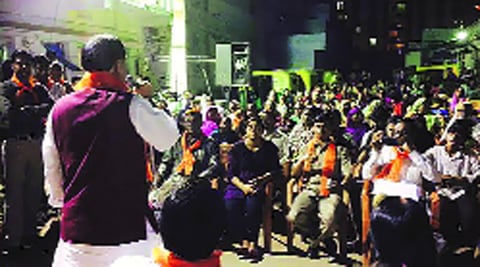 Irfan Ahmed, BJP Minority Morcha leader, in Juhapura. Leena Misra
It's a Friday evening. The place is a small open ground within the Al Ashad Park residential complex in Juhapura, right next to where it borders Vejalpur. A high wall topped by a barbed wire fence surrounds a posh low-rise apartment building on the Vejalpur side, reaching just over its first floor to mark the "border" — a term popular in Juhapura, Ahmedabad's Muslim ghetto, for the point where the Hindu area of Vejalpur begins.
Heaps of debris and garbage lie around, and reaching Al Arshad Park near Jhalak Flats requires careful steering through undulating land. Surrounded by rundown tenements, Irfan Ahmed, the national vice-president of the BJP Minority Morcha, is addressing a gathering.
"One of the seniormost leaders of the BJP, Mananiya Shri L K Advaniji, is your candidate. This time you have to vote for him. He has been winning with a three-four lakh lead. This time give him an additional one lakh lead. Each vote by you will make the BJP government and, with it, you will see the gaurav (pride) of Gujarat shine," Ahmed says in his 15-minute speech, not mentioning the BJP's prime ministerial candidate Narendra Modi once. He ends with slogans of "Jai Bharat!", "Jai Vejalpura!", and "Jai Juhapura!".
Accompanying Ahmed is Dr Aslam Gurukkal, the national secretary of the BJP Minority Morcha who belongs to Karnataka. Ahmed says they have come mainly to campaign for Advani, who is contesting from Gandhinagar. The Lok Sabha constituency has around 1.4 lakh Muslim votes, of which 90,000 live in Vejalpur Assembly seat, covering Juhapura and Sarkhej areas.
Ahmed tells them that the Congress tried to introduce a sub-manifesto in the middle of elections to please minorities. "But this means nothing. Your corporator Ilaben (Ila Patel) will take care of you, and so will your MLA Kishorbhai (Kishor Chauhan)."
Patel and Chauhan, the BJP Vejalpur MLA, also address the gathering. BJP corporator Patel does not mention Modi either, her speech mostly dwelling on how she will take their problems to municipal officials and help solve them.
Gurukkal carries a bunch of brochures in Urdu, but these too do not have a picture of Modi. Instead there is a photograph of BJP ideologue Syama Prasad Mookerjee, and an old snap of Advani, Atal Bihari Vajpayee and Murli Manohar Joshi together. Gurukkal tells you hastily that these brochures are not for distribution in Gujarat.
In a press statement later that day, Gurukkal says he is in Gujarat to appeal to minorities to express solidarity with Modi. Calling them "beneficiaries of Modi's impeccably clean and honest performance", he hopes they will "give a befitting reply to the pseudo-secular, pseudo-intellectuals who were spreading canards (about Modi)".
The Al Ashad Park crowd includes many small children, tugging at each other's saffron scarves and cheering often at the wrong time. Among the adults, most don't want to talk about Modi or to give their names. A young girl …continued »