Ambedkar disliked Muslims: BJP's pitch to lure Dalits in Agra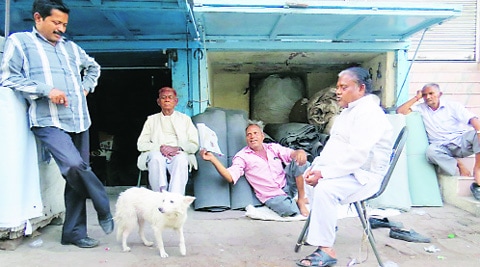 Shopkeepers in Chakki Pat, one of Agra's biggest Dalit bastis. Ashutosh Bhardwaj.
"Dalits are the original inhabitants of India. Brahmins and other upper castes are Aryans who came from outside. Dr Ambedkar did not embrace Islam because he did not want Dalits to align with Muslims."
This is the "history lesson" that the Sangh Parivar is secretly teaching the Dalits of Agra, a seat reserved for SCs, and considered the "capital of Dalits" because of their numerical dominance in the constituency.
Of the eight Lok Sabha seats in the belt known as Brij Pradesh, Agra is the only one that went to the BJP in 2009. Sitting MP Ram Shankar Katheria won narrowly, and has been an unpopular representative who finds himself on a sticky wicket as Agra goes to polls on Thursday.
Katheria is also a Dhanuk, an SC subcaste, while the overwhelming majority in Agra is Jatav, the caste Mayawati belongs to. Jatavs are natural BSP voters.
The over one lakh Muslim votes in the constituency have been traditionally divided among the SP, Congress and BSP. But following the Muzaffarnagar riots and the rise of Narendra Modi, Muslim votes appear to be consolidating behind the BSP.
Muslims say they will vote for the BSP's Narayan Singh Suman because he alone can "stop" Modi. Even the BJP readily concedes that Suman is the strongest candidate here. Dalits and Muslims are neighbours almost everywhere in the constituency, and an alliance to vote together for the BSP is certain to hit the BJP.
It is in this background that the saffron camp has devised its two-pronged strategy: to "appropriate" Dr Ambedkar, and to employ his alleged "views" on Muslims to break the community's alignment with Dalits.
"Jatav votes are crucial for us. They all go to BSP. So we have recently begun holding secret meetings in their bastis. We tell them that they and the Dravidians are the original inhabitants of India. The Aryans, Brahmins, etc. are outsiders who pushed them down the social ladder," Rajnarain, the owner of a tent shop who is among a handful of Jatavs affiliated with the RSS-BJP, said.
Local leaders and party workers said the brain behind the meetings in Jatav bastis is Kesho Mehra, a former MLA from Agra who also used to be a BJP general secretary in undivided UP. Mehra's association with the VHP-RSS is three decades old, and he is now a Sangh ideologue who has been assigned the task of "converting" Agra's Dalits to the saffron fold.
"We tell them that Dr B R Ambedkar got the Bharat Ratna only during BJP rule. We also point out that had he embraced Islam, sabhi Daliton ko Mecca-Medina ki disha mein sar jhukaana padtaa (all Dalits would have had to bow in the direction of Mecca and Medina)," Rajnarain said.
Mehra said Ambedkar showed "great foresight" in choosing Buddhism over Islam.
"I am a great fan of Babasaheb Ambedkar. …continued »