All quiet at Badal Mansion and Manpreet's residence, both confident of their victory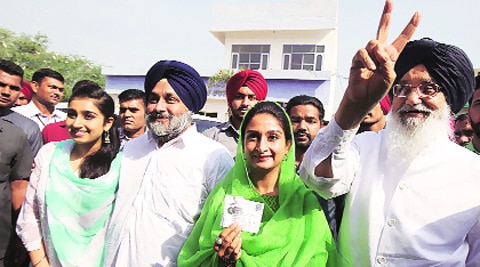 Harkirat Badal with her father, mother and grandfather. Gurmeet Singh.
Though Harsimrat Kaur Badal- daughter-in-law of CM Parkash Singh Badal and even her brother –in-law and rival candidate Manpreet Singh Badal were equally confident to win the `prestigious' Bathinda Parliamentary seat, but not much activity was seen outside the houses of CM and even Manpreet  a day before the Lok Sabha elections.
It was more or less all quiet as CM Parkash Singh Badal who was in his house till early morning had left for Chadigarh while  Deputy CM Sukhbir Singh Badal was also away.
Harsimrat however was busy in her meditation session in Fatehgarh Sahib. Harsimrat preferred not to attend phone calls as well the whole day while Manpreet was seen meeting his workers at his residence before noon. Manpreet while talking to The Indian Express  said," I have fought 5 elections before, but this one is the most important for me and I am the most positive.
I am rather eager to see the results. " And when asked as whether he was too sure of his victory, he in a diplomatic way answered," I got the maximum response in this election from all across the parliamentary constituency and hence I am sure a good news will prevail upon by tomorrow afternoon."  He added," Akalis tried to buy votes, they offered Rs 500 for a vote, they tried to intimidate our polling agents and what not on poll day, but it did not work and the results will show the truth."
Though Harsimrat was in meditation session the whole day on Thursday, but her kids were back home in Badal village. On Friday, her younger daughter Gurleen Kaur's birthday while elder daughter Harkirat will be turning 19 on May 17. So the daughters too were praying for their mom and wanted their birthday to be special for her.
Manpreet who was at his residence in Badal village before noon, had however gone to Rajasthan along with his father Gurdas Badal to see his farm land however  the workers were expecting him to be back by late evening. A few vehicles were seen parked outside his house which indicated that workers were inside and waiting for him to be back.
While Workers kept on trickling in and out at Badal Mansion the whole day but their frequency increased after 5.30 P.M as it was indicated that CM and deputy CM will be back by evening. Chief Minister however after attending a private function in Chandigarh was seen in Fazilka villages late in the afternoon and by late evening he was in Muktsar to see the ongoing project  to check water logging problem in this area.
CM Parkash Singh Badal was having no doubt of his daughter-in-law's  victory in Bathinda and he said," it will be by over 2 lakh margin and we will be winning all the seats in Punjab." And at Muktsar he even said,"this …continued »