After snapping ties with BJP, Nitish faces his toughest political battle ever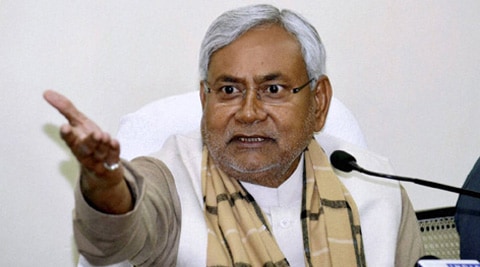 Nitish Kumar warned if the people did not strengthen his hands in the parliamentary elections.
He was seen as Bihar's development man and a master of social engineering. But in the middle of the general elections, Modi holds the development plank, Lalu the Muslim vote, and Nitish finds himself alone, and at the wrong end of caste calculations. Has the arrow missed the mark?
Tyag tej tap bal se rakshit yah swatantrata, dukhi manujata ke hit arpit yah swatantrata/ ise mitane ki sazish karne walon se keh do, chingari ka khel bura hai (Sacrifice and penance sustain freedom, and this freedom is dedicated to humanity. Tell those who conspire to maul this freedom, don't play with fire)'.
Bihar Chief Minister Nitish Kumar put this verse up on Facebook recently. The message was clear to those who read between the lines and even those who didn't, for these were from a poem written by Atal Bihari Vajpayee, the former prime minister and conscience keeper of the BJP.
Few could have predicted this a year ago, that the man who once thought he had proved himself in Bihar would find himself with the most to prove in the state — least of all Nitish, who after taking the gamble of snapping ties with the BJP over Narendra Modi is facing his toughest political battle ever.
At a rally in Harnaut, a town in Nalanda district, a crowd is gathered on April 17 to hear the CM speak. It's a small venue, and this is Nitish's backyard. But the high school ground is only half full, with just about 3,000 people turning up. Nitish begins by reading out names of 20 party leaders and some mukhiyas, and moves on to talk about the improvement in law and order, the development he has brought to the state, and the 'special category' status he has planned for Bihar. "Vote for the pride of Nalanda and the progress of Bihar," he appeals as he garlands the JD(U) Nalanda candidate, Kaushlendra Kumar. The audience is listless — there are no cheers for JD(U), Kaushlendra or Nitish. Instead, two youths murmur "no, no, do not garland him".
Nitish senses the change. Instead of talking about himself and his development story, his campaigns, including his speeches, are now increasingly centred around his bete noire Modi and the BJP's "bayan bahadurs (tall claimants)". Even the JD(U)'s poll punchline, 'Abki baar karen vichar, sahi neeti sahi sarkar', sounds a lot like the BJP's 'Abki baar Modi sarkar'. However, even party insiders admit that the game plan may not work.
It was in June 2013 that Nitish pulled out of the NDA after the BJP declared Modi as its prime ministerial candidate, perhaps confident that if Modi was the "development man", …continued »