After poll rout, Pawar to drive a hard bargain with Congress for Assembly seats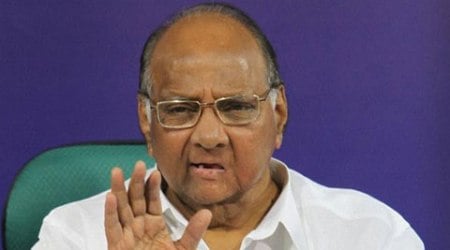 Pawar said Congress and NCP should not lose time in finalising sharing of seats and start preparations for Assembly polls.
NCP president Sharad Pawar on Friday set the stage for a hard bargain with the Congress ahead of the state Assembly elections scheduled in October.
Addressing his party's "chintan baithak", Pawar said the NCP, which got four seats in the Lok Sabha polls, had fared better than Congress, which got just two, and called for a new seat-sharing formula between the two allies for the Assembly polls.
"The Congress made us settle for only 21 out of the 48 Lok Sabha seats in the state, citing their better performance in the 2009 elections. Now, when you sit for seat-sharing negotiations, remind them of the same arguments to evolve a new formula," Pawar told his party leaders.
In the 2009 Assembly polls, the Congress had contested 164 seats while the NCP fought 124 seats.
The NCP is also likely to press for a greater role in the policy-making of the government.
During the meeting, Pawar also underlined the disconnect between the NCP ministers and leaders with the masses. He also expressed serious concerns about disconnect between ministers and bureaucrats that, according to him, had given advantage to the BJP-lead grand alliance in the Lok Sabha elections.
"We have 62 MLAs. But in this Lok Sabha polls, NCP fared well only in 14 Assembly segments. In 48 Assembly segments, we were trailing," the NCP chief said.
"We have to make efforts to connect to communities like dhangar and lingayat who have distanced themselves from Congress and NCP. We should give reservations to Marathas and minorities without disturbing the existing quota for scheduled castes, scheduled tribes and OBCs," he said.
Pawar also made some blunt observations on execution of central schemes by state ministers as well as functioning of the NCP and lifestyle of its leaders.
"The Food Security Act promised to cover 8.77 crore people in Maharashtra and give them wheat at Rs 2 per kg and rice for Rs 3 per kg. The Centre announced the scheme a year ago, but the state did not implement it for seven to eight months. When it finally decided, the code of conduct kicked in. So people could not avail of the scheme," he said.
The NCP chief said he had received a number of complaints from district leaders on how there were same people running the organisation for years, thus depriving others.
Citing the example of BJP, he said the NCP should seriously consider making a provision for not allowing an individual to continue as the party chief for more than two to three years. This would help the party develop second-rung leadership in the state, he added.
Pawar also expressed serious concerns over distancing of generation next and women from the NCP.
While asking his ministers/leaders to adopt simple living, he warned against vulgar …continued »