BJP launches a scathing attack with Vadra CD, Priyanka Gandhi compares BJP to 'panicky rats'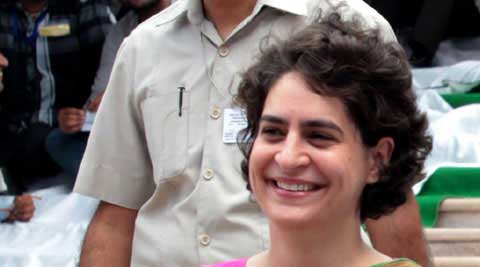 Responding to BJP's allegation on Robert Vadra, Priyanka Gandhi said she doesn't fear anyone.
Hours after Priyanka Gandhi Vadra hit out at Narendra Modi again, the BJP Sunday launched its sharpest attack against her husband, releasing a strongly worded booklet and video targeting Robert Vadra.
Titled 'Damaad Shri', the nearly 8-minute video accuses the Bhupinder Singh Hooda-led government in Haryana and the previous Ashok Gehlot-led regime in Rajasthan of helping Vadra grab land across the two states in violation of rules.
The video shows a snazzily dressed Vadra riding a fancy bike and working out, contrasting it with poverty-struck farmers whose land had been taken by him. The video accuses Sonia and Rahul Gandhi of facilitating the illegal land deals for Vadra. The six-page booklet, also titled 'Damaad Shri', talks about his various land deals.
"There was gross violation of laws relating to land and environment. Robert Vadra after Haryana went straight to Rajasthan. The previous Congress government of Rajasthan helped him by violating laws," BJP leader Ravi Shankar Prasad said releasing the booklet attacking Vadra.
Priyanka reacted to the release of the booklet and video immediately, comparing the BJP to "panicky rats" and saying she wouldn't be scared. Speaking in Mahrajganj area of Rae Bareli, she said that she knew the BJP would resort to lies before polls. "Yeh baukhlaye hue choohon ki tarah bhag rahe hain… Jitna karna hai kar lein. Main kisi se nahi darti. Main inki vinashak, nakaratmak aur sharmnak rajniti pe bolti rahungi. Aur karein, chup nahin rahungi, bolti rahungi (They are running around like panicky mice… They can do as much as they want. I am not scared of anyone. I will keep on speaking about their destructive, negative and shameful politics. Let them do more. I will not sit quiet, I will continue to speak)."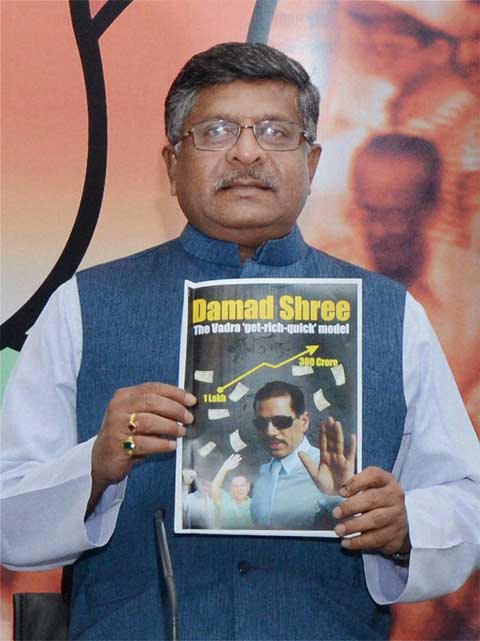 With polling in Rae Bareli just two days away, Priyanka earlier fired the first salvo of the day on Sunday. "Yeh Bharat desh hai jise chalane ke liye chhappan inch ka seena nahin, dariyadil chahiye. Satta ka kroor bal nahi, naitik shakti chahiye (This is India. To run this country, what is needed is not a 56-inch chest but a big heart. Not the cruel might of power but moral authority). Instead of hollow and superficial showcase of capabilities, this country requires internal determination, where one is ready to die to save its culture," she said in Rajamau village of Rae Bareli.
Modi is fond of bringing up his presumably 56-inch chest in speeches. In reaction to Priyanka's comment, the BJP said: "The Congress talks about 'big heart'. Whose 'big heart' helped Robert Vadra establish his empire?"
The party also claimed that its target was not personal or limited to a family but the larger issue of corruption. "So far no serious attempt has been made by the Congress to defend Vadra," Ravi Shankar Prasad said. "I did not even ask questions …continued »