After Muzaffarnagar, BJP farms Jat vote in western Uttar Pradesh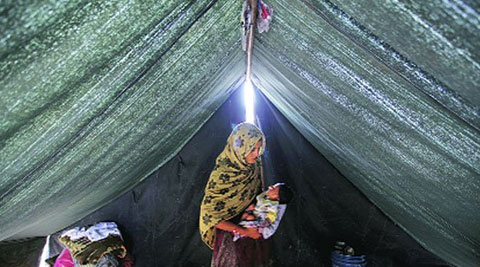 The SP candidate from Amroha is the wife of MLA Kamal Akhtar, who is a minister in Akhilesh Yadav's government.
Neither Union minister Ajit Singh nor the late farmers' leader Mahendra Singh Tikait considered each other a leader of the farming community of Jats in western Uttar Pradesh.
But the fear of the community drifting towards the BJP in the wake of last year's communal riots in Muzaffarnagar has got them to bury their differences and try and rally the influential community behind them.
As part of this strategy, Rashtriya Lok Dal chief Ajit Singh has fielded Tikait's politically active son Rakesh Tikait as his party's candidate from Amroha. But the move appears to be succeeding only partially in stopping Jats from drifting towards the BJP.
The mention of elections to sugarcane farmers gathered in the yard of Simbhaoli sugar mill waiting to offload their cane evokes the usual resentment against the government over sugarcane pricing and dues. And while the older farmers swear by Tikait and the RLD, the younger lot does not hesitate to differ.
"We will vote for Narendra Modi," declares Gagan Chaudhary of Gandu Nagla village, who is in his early 20s and is with his young friends, some of who are wearing Tikait's election campaign cap. Many of his young friends were equally open about backing the BJP.
The older farmers said they were aware of this shift and those affiliated to Tikait's Bhartiya Kisan Union talked in hushed tones about the schisms even as they personally swore by Tikait.
The RLD won the Amroha seat in the last two polls but when Rakesh visited Sherpur village to campaign, there was not a single villager waiting. Chaudhary Ashkaran Baliyan, who belongs to Tikait's khap and is also a BKU general secretary, had arrived in the village ahead of Rakesh to gather villagers to listen to him. But the lack of a response forces him to ask the campaign group to move to the next village.
"Modi is no God of the Hindus," Rakesh told The Indian Express, but is unable to hide his unease over Modi's polarisation potential. He seeks to rubbish Modi's appeal and asks why the BJP has fielded a candidate against him when Modi was reverential when he referred to his father during a rally in Meerut.
One Jat BJP leader said to be close to Ajit Singh claims Rakesh was given the ticket to ensure Singh did not lose Jat votes in his own constituency of Baghpat.
The attempt by the Congress-RLD alliance to stop the Sainis, another prominent community in the region, from drifting towards the BJP also does not appear to be making much of an impact even though they joined hands with the Mahan Dal, which draws support from the Sainis.
"There are too many Muslim MLAs here in Amroha," says Ramesh Saini from Bambugarh village, referring to the religious …continued »