AAP releases sixth list; Tribal activist Soni Sori and Shazia Ilmi get tickets
On AAP's sixth list of candidates for LS polls, Shazia Ilmi and Soni Sori will contest from Ghaziabad and Bastar constituency respectively.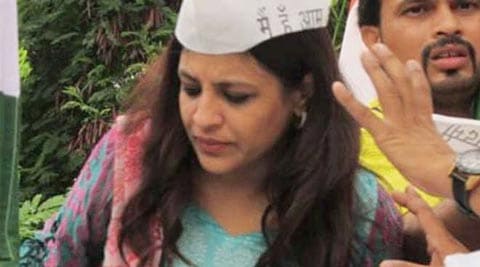 AAP leader Shazia Ilmi clarified to the media that Arvind Kejriwal's statements were not directed at the entire media fraternity. (Indian Express)
AAP on Saturday released their sixth list of candidates for 55 Lok Sabha seats.
Tribal activist Soni Sori will contest from the Bastar constituency and party leader Shazia Ilmi from Ghaziabad. 36-year-old Soni Sori was a victim of brutal torture by Chhattisgarh police for her alleged link with Maoists and receiving protection money from Essar Group in Chhattisgarh on behalf of Maoists. She was granted bail by the Supreme court only last month.
Ms. Ilmi, on the other hand, will contest from Ghaziabad although the Aam Aadmi party initially wanted her contest from Rae Bareli to take on Congress president Sonia Gandhi. Eventually, she declined. She expressed her unhappiness because she wasn't considered for the New Delhi seat, following which she was given the Ghaziabad constituency. 
Here is the entire list:
1. Andaman & Nicobar- Andaman & Nicobar- Sanjay Meshack
2. Assam- LakhimPur- Hiramoni Deka Sonowal
3. Chhattisgarh- BaSTar(ST)- Soni Sori
4. Chhattisgarh- Mahasamund- Lakshman Masuriya
5. Chhattisgarh- Bilaspur- Anand Mishra
6. Dadra And Nagar Haveli- Dadra And Nagar Haveli- Chotubhai Patel
7. Daman & Diu- Daman & Diu- Kessur Goan
8. Goa- North Goa- Dr Dattaram B Desai
9. Goa- South Goa- Swati Shridhar Kerkar
10. Kerala- Kozhikode- K P Ratheesh
11. Kerala- Palakkad- Padmanabhan Bhaskaran
12. Maharashtra- Raver- Pratibha Shinde
13. Maharashtra- Ahmadnagar- Deepali Sayed
14. Maharashtra- Palghar- Pandhurang Jethya Pardhi
15. Maharashtra- Jalgaon- Sangram Gokulsingh Patil
16. Maharashtra- Akola- Ajay Panjabrao Hinglekar
17. Maharashtra- Wardha- Md Alim Patel
18. Manipur- Outer Manipur- M Khamchinpou Zou
19. Meghalaya- Shillong- Armerington Kharshiing
20. MP- Damoh- Santosh Bharti
21. MP- Satna- Jagdish Singh
22. MP- Morena- Devendra Agrawal
23. MP- Rewa- Poornanand Tiwari
24. MP- Khajuraho- Amit Bhatnagar
25. MP- Shahdol- Vijay Kumar Kol
26. MP- Gwalior- Neelam Agrawal
27. Odisha- Sambalpur- Anand Samal
28. Odisha-Sundergarh(ST)- Basil Ekka
29. Odisha- Mayurbhanj(ST)- Chhabi Mahali
30. Odisha- Kendrapara- Md Samim Akhtar
31. Odisha- Jagatsinghpur(SC)- AnUPama Sethy
32. Odisha- Nabarangpur- Harabati Gond
33. Odisha- Kandhamal- Narendra Mohanty
34. Odisha- Bhadrak- Narayan Chandra Jena
35. Odisha- Aska- Prabhat Kumar Mohanty
36. Odisha- Jajpur- Kalandi Mallick
37. Rajasthan- Churu- K K Saharan
38. Rajasthan- Jaipur(City)- Dr Virendra Singh
39. Rajasthan- Alwar- Virendra Vidrohi
40. Rajasthan- Bhilwara- Sunil Agiwal
41. Rajasthan- Udaipur- Velaram Meena
42. Tripura- Tripura WeST- Dr Salil Saha
43. UP- Jalaun(SC)- Abhilasha Jathav
44. UP- Mathura- Anuj Garg
45. UP- Etah- Dilip Yadav
46. UP- Barabanki- Dinesh Chandra Gautam
47. UP- Machhlishahr- Virendra Kumar Sonker
48. UP- Ballia- Bharat Singh
49. UP- Dhaurahra- Dilkees Bano
50. UP- Banda- Amar Singh Rathore
51. UP- Sant Kabir Nagar- Aftab Alam Khan
52. UP- Ghaziabad- Shazia Ilmi
53. Uttarakhand- Nainital(Udhamsingh Nagar)- Balli Singh Cheema
54. Uttarakhand- Tehri Garhwal- Anoop Nautiyal
55. Uttarakhand- Hardwar- Kanchan Choudhary Bhattacharya