AAP finds its feet in Punjab, Capt holds fort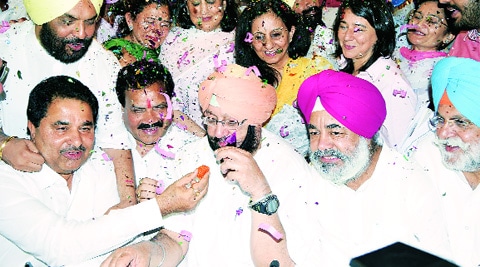 A local Congress leader offers a sweet to Captain Amarinder Singh after he won from Amritsar on Friday. RANA SIRAJIT SINGH
The Aam Aadmi Party (AAP) was the giantkiller in Punjab, wresting four of the state's 13 parliamentary seats, restricting the BJP-Akali Dal tally to six and pushing the Congress down to three.
Punjab was, in fact, the only state where the AAP won any seats in the country. Its vote share of 24.5 per cent is unprecedented for a party apart from the Akalis and the Congress in the state.
The Congress must have gained some solace from Amarinder Singh's win in Amritsar, but most of its sitting MPs as well as its state PCC chief, Partap Singh Bajwa, lost.
While the Akali Dal-BJP tally rose by one from 2009, there were no signs of a Narendra Modi wave. The alliance lost in all the big-city constituencies of Ludhiana, Jalandhar, Amritsar and Patiala, perhaps paying a stiff price for the imposition of property tax in municipal areas. Modi had rallied in Ludhiana and Amritsar two days before voting day.
In Bathinda, where Harsimrat Kaur was up against husband and Deputy Chief Minister Sukhbir Singh Badal's breakaway cousin Manpreet Singh Badal, it was a day of twists and turns. Her winning margin never crossed 25,000 at any point. Harsimrat will be the only woman MP from Punjab in the new Lok Sabha.

The AAP's four winners — it contested all the 13 seats — included comedian Bhagwant Mann, retired professor Sadhu Singh, cardiologist Dr Dharamvir Gandhi and former diplomat Harinder Singh Khalsa. Lawyer-activist H S Phoolka, who has long fought for the victims of anti-Sikh riots of 1984, finished at No. 2 in Ludhiana after giving early jitters to the Congress's Ravneet Bittu and the Akali Dal's Manpreet Singh Ayali. The seat was won by Bittu.
Mann won from Sangrur by a margin of more than 2.1 lakhs, a new record for the state, defeating the Akali Dal's Sukhdev Singh Dhindsa. Congress sitting MP Vijay Inder Singla was placed third. Prof Singh recorded the second highest victory margin in the state, 1.7 lakh votes, against sitting Akali MP Paramjit Kaur Gulshan.
In Patiala, Congress heavyweight and three-time sitting MP and Union External Affairs Minister Preneet Kaur fell to AAP's Dr Gandhi, a philanthropist cardiologist. Khalsa was a surprise winner from Fatehgarh Sahib.
AAP performance is seen as a result of the anti-incumbency sentiment against both the Akali Dal plus ally BJP in the state and the Congress at the Centre.
While the Congress's vote share of 33 per cent was the highest in Punjab, AAP cut into over 7 per cent of the votes secured by it and 8 per cent of the votes the Akalis got in the 2012 Assembly polls.
The BJP improved its performance in Punjab too, …continued »