A vote for two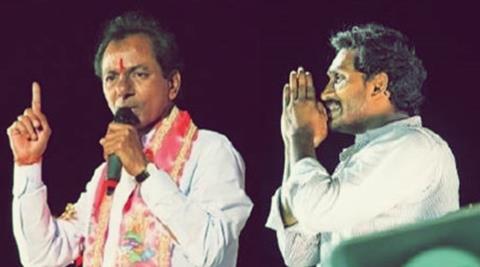 In Telangana it is TRS vs Cong while Seemandhra will see a YSRCP vs TDP battle
This is the last time Andhra Pradesh will vote as one state before it splits. Sreenivas Janyala captures the poll fervour on either side of the divide.
Telangana: TRS vs Cong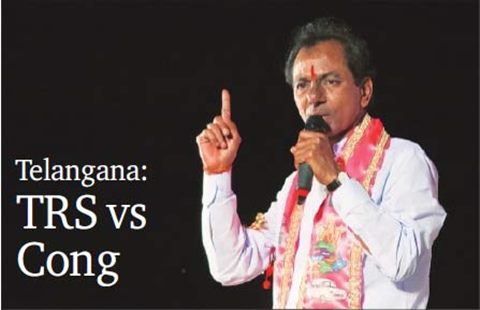 It's a warm evening at the Kalasala Ground in Karimnagar. K Chandrasekhara Rao, KCR garu to his supporters, wears the pink scarf of the Telangana Rashtra Samithi (TRS) over his signature whites and gets down to doing what he does best — giving his opponents a tongue-lashing. As always, Telugu Desam Party (TDP) leader Chandrababu Naidu's dilly-dallying on Telangana makes him an easy target. "Chandrababu says he won't go from Telangana. What work do you have here," asks the TRS chief, pausing for effect. "So he is contesting elections here. As if anyone is going to vote for him here in Telangana!" The crowd, mostly youngsters, howl and cheer lustily.
The Karimnagar Lok Sabha seat and the 13 Assembly seats in the district are important for the TRS. Karimnagar has been at the centrestage of the Telangana movement since 1969, a legacy KCR has been quick to hold on to. He had contested as an MP from Karimnagar in 2004. Again in the 2006 and 2008 bypolls, he won from the same constituency. This election, though KCR is contesting from Medak — both Medak Lok Sabha seat and Gajwale Assembly constituency in Medak district — the TRS's hopes of forming the government hinge heavily on the support that Karimnagar gives it. But this has traditionally been a Congress bastion. It was in Karimnagar in 2009 that Sonia Gandhi had promised a separate Telangana state.
The TRS is wary about the Congress's belated push in the region. Rallies by Sonia Gandhi and Rahul Gandhi in Karimnagar are said to have rejuvenated the cadre and may help the party put up a fight in the north Telangana districts of Adilabad, Nizamabad and Karimnagar, where the party is popular.
The TRS is betting on the euphoria over the formation of Telangana, hoping that it will help the party sweep seven of the 10 Telangana districts. The party has gone to the people with the claim that it was their agitation that made Telangana a reality. The Congress is claiming that without Sonia, Telangana would have remained a dream. The BJP says that if Sushma Swaraj had not made her statement in Parliament, the T-Bill would not have gone through. With so many claimants to the statehood pie, it is a noisy and crowded field.
At the Karimnagar rally, KCR is …continued »