A brush with cricket, poetry and glamour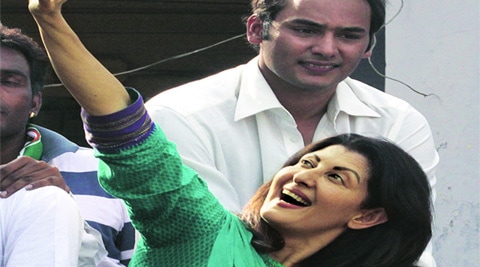 Sangeeta Bijlani greets a voter in Tonk-Sawai Madhopur, where her husband Azharuddin is the Congress candidate. Anil Sharma
Far from the mundane political commentary, the electorate in Tonk-Sawai Madhopur in Eastern Rajasthan stands witness to an entertainment package this poll season. An actress and a cricket star hold sway over villagers with couplets, cricketing jargon and charisma. Sitting Congress MP from Moradabad Mohammad Azharuddin might be a rank outsider in the constituency but he and his wife Sangeeta Bijlani, along with his son Mohd Asaduddin, are seen going the extra mile in a fiercely fought poll battle.
Clad in a green suit and a pair of sneakers, Sangeeta swishes in at a rally in Malpura in Tonk with Asaddudin, 24, and gets mobbed by the womenfolk. The men pull out their cellphones for a close-up picture, while Sangeeta gleefully waves at the crowd. Erstwhile royal of Bharatpur and sitting legislator from Deeg-Kumher Visvendra Singh also supports the new candidate who is contesting against Sukhbir Singh Jaunpuria of BJP, Jagmohan Meena of National People's Party and independent candidate Makhan Lal Meena.
Tonk-Sawai Madhopur will go to polls on April 24. The constituency has over 17 lakh voters out of which 7.5 lakh are minority and Dalits. The Congress hopes to get draw on this vote bank.
Sangeeta thrills the crowd with an impromptu couplet, "They say how far can we conquer, I say how far can I spread love." A roadshow follows through the narrow bylanes of the market. "I am not a political person and do not know the caste equations. But I do know that whatever you do with your heart you always win," she tells The Indian Express.
Asad, a budding cricketer, has his first brush with a political campaign. "Papa will work for you and stay among you. Please vote for him," he says.
A former local legislator helps Azhar tie the traditional safa (turban), a ritual that candidates in Rajasthan must master. "My first match was in SMS stadium in Jaipur where I made the highest score, 113. I made three centuries on my debut. I did not disappoint you then and won't do so now," Azhar said.
He talks about working for the farmers and alleges that the Raje government did little for them after hailstorms destroyed their harvest. "This place will become like Somalia if we do not respect out farmers." He further says: "I have been a captain and I know how to lead a team. I will work with all the communities and keep them together."
Out in the villages, Azhar milks a cow and plays a few quick balls. In a constituency where the BJP holds all the eight assembly seats, despite being a Congress stronghold with a dominant minority population, prospects of a walkover look bleak. Sitting MP Namo Narain Meena, who is now contesting from Dausa, has …continued »