78 pc turnout, but few can show ink mark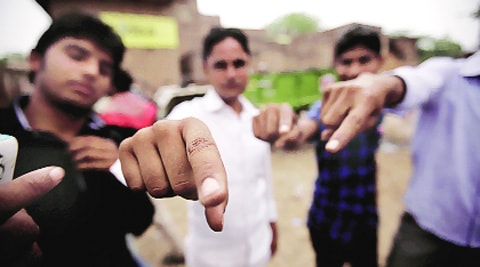 Rehna villagers say they voted, cite different reasons for absence of the indelible ink mark. PRAVEEN KHANNA
"Did you vote on April 10?" is a question that is rarely met with a negative answer in Rehna, a small village in Haryana's Mewat district that comes under Gurgaon Lok Sabha constituency. Understandably so, one would think, given the 78 per cent voter turnout in district headquarters Nuh, under which Rehna falls. But when asked to show the indelible ink mark on their fingers, the villagers start scurrying for answers.
Barring a handful of people, not many here have the ink marks. This has lent credence to allegations of largescale poll rigging. Rehna, as well as many villages in Nuh, Ferozepur Jhirka and Punhana, are now under the Election Commission's scanner for alleged booth capturing and bogus voting.
"We have received complaints… they have been sent for inquiries. The inquiry report is still awaited. Once it is in, a decision could come in two-three days," said Deputy Election Commissioner Alok Shukla.
Haryana's Chief Electoral Officer Shrikant Walgad said a scrutiny of the complaints has already been done by the observer and returning officer and a report has been sent to the EC. "The commission has to take a view on the report. Whether a repoll is required or not will be the EC's call," he said.
Rehna villagers, meanwhile, list a variety of reasons for the absence of the ink marks. "I voted, but it's been over a week and the ink mark is not very clear," said Mohammad Sajid, who runs a tailor shop. He shows his thumb, but is stumped for an answer when told that the mark is only put on any other finger or thumb if the left forefinger is missing.
Another resident who is trying to show his little finger to claim that the mark faded off, stops the moment he hears this. Others like Lallu, Iman and Rafique claimed that since most of the villagers are engaged in the harvesting process, their ink marks have got erased.
Ibrahim, 70, offered another explanation. "My religion does not allow me to offer namaaz if I have any mark painted on my body. That is why I have removed the ink mark. Many of the villagers would have done the same," he said.
Mohammad Rashid Hussain, 24, is among the few with a genuine indelible mark on his left forefinger. "Ek hi aadmi 40-50 vote daal aata hai. Isiliye sabki unglion pe nishan nahin hain (One person casts 40-50 votes here. That's why all these people don't have marks on their fingers)," said Hussain, labelled as a "Congress sympathiser" by the villagers.
"This is nothing new here. Elections in Mewat have always happened this way. This time, they allowed us to cast around 250 votes for Congress and then took over the booths," he alleged, explaining that he …continued »