4 out of 33 in 2009, BJP has everything to play for in UP's last 2 phases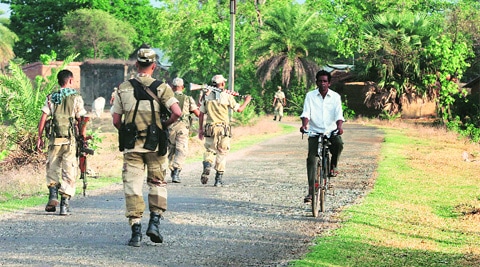 Central security forces in Purulia on Tuesday. Partha Paul
People in Firozpur, a small locality of Ghazipur, voted for the Samajwadi Party (SP) in the last two elections. But the upper caste voters — Brahmins, Thakurs, Bhumihars — have recently become Narendra Modi supporters, although they remain unsure about the BJP.
That's the first challenge Modi faces as Uttar Pradesh prepares for the last two phases — of the 33 seats that go to the polls on May 7 and May 12, the BJP won only four in 2009. Even as Brand Modi makes inroads, the party loses visibility and the Hindutva sentiment weakens as one moves away from areas associated with saffron symbols.
Of the four seats it won in 2009, Varanasi and Gorakhpur are staunch Hindu seats, while the other two, Bansgaon and Azamgarh, are neighbouring constituencies. The BJP has not won Faizabad, the other symbolic seat, in the last four elections.
"Sab Modi ko ho. BJP dikhbe na karela (Everything belongs to Modi, BJP is hardly visible)," say some youths wearing Modi T-shirts. Even in Dalit villages of Ghosi and Muslim villages of Azamgarh, most residents immediately admit a "Modi wave", which has put the BJP in a direct contest in almost every seat. Varanasi's election in-charge Ashok Dhawan claims party workers have already visited every house in the constituency.
But across the Ganga, villagers say they rarely see a BJP campaign. "We hear about Modi on TV, but the party is not here," says Rafiq Khan, a shopkeeper in Bheer village of Mau district. On Sunday, Modi's close aide Amit Shah addressed a rally in Manikadeeh village of Azamgarh.
The party managed a good crowd, but neighbouring villagers could not remember when they last saw a BJP leader. This despite Azamgarh having a sitting BJP MP, Ramakant Yadav.
Second, the BJP's penetration still seems limited to the upper castes and influential OBCs, so victory may only be possible if the votes get split between at least two other parties. For instance, in Azamgarh and Bansgaon in 2009, Muslim candidates contested from smaller fronts and dented the SP and BSP's vote share, due to which the BJP managed to scrape through. Even BJP stalwart Murli Manohar Joshi won by a margin of just 17,000 votes in a tough triangular contest in Varanasi.
In Ballia, the BJP's Bharat Singh faces two-time SP MP Neeraj Shekhar, son of former PM Chandra Shekhar. This time, the Quami Ekta Dal's Afzal Ansari is expected to affect the SP's Muslim and other backward votes, giving a lead to the BJP. But such victories would be due to the dynamics of a triangular contest, rather than any Modi factor.
If just one party, say the SP, weakens, it would make the BSP stronger vis-à-vis the BJP, says Ram Avtar, in-charge of the BSP's election office for Ghosi seat. This means Muslims and weaker OBCs would move towards Mayawati, and her …continued »