Son by his side, N D Tiwari tests Nainital waters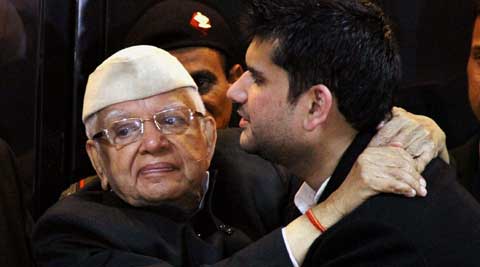 On Sunday, as physiotherapist Prince Azhar Irani helped Tiwari take off his apron after breakfast at Nainital's state guest house, Sharma, who has been staying in another room at the same guest house, entered. PTI
He needs a physiotherapist's help to get going every morning, and has to be fed his breakfast with a spoon. Once lodged in the front seat of his SUV, he finds it difficult to get off to meet people.
N D Tiwari is no longer the leader he once was. He is now trying to gauge if the man he recently recognised as his biological son could be the heir to his politics.
With 35-year-old Rohit Shekhar by his side, 89-year-old Tiwari is on a tour of Nainital, to introduce his son to his people. With his father's trademark Gandhi cap on his head, Rohit asks Tiwari's supporters to support him too. "Mujhe bhi apna aashirwaad dein," he says with folded hands.
After years of denial and a long battle in court, Tiwari acknowledged Rohit earlier this month. Rohit and his mother, Ujjwala Sharma, have been travelling with him on a 10-day tour of Nainital since Friday.
On Sunday, as physiotherapist Prince Azhar Irani helped Tiwari take off his apron after breakfast at Nainital's state guesthouse, Sharma, who has been staying in another room, entered.
"Did you have your breakfast?" Tewari asked her. She nodded. He asked a second question: "Did you see Naini lake?"
A day earlier, Tiwari and Sharma had gone with their son to the Naina Devi temple north of the lake, apparently to pray for the success of the emergence of Rohit as Tiwari junior in Nainital ahead of the
Lok Sabha
elections.
As the day began, Tiwari sat in the front seat of a Mahindra Xylo SUV, with Rohit at the back. The entourage, which included local
Congress
MLA Sarita Arya, rolled through Mall Road, the vehicles stopping at several places to allow Tiwari to meet people. Everywhere, Rohit got off and stood next to his father's window.
At the Bhowali Sanatorium, father and son sat next to each other as Tiwari asked whether all the modern equipment he had ordered during his tenure as chief minister of Uttarakhand had arrived. "No," said the organisers of the function, and Tiwari asked his OSD Bhawani Bhatt to try to get him on the phone with the state's DG, Health.
Next was a public meeting on the Sanskritik Manch premises. Rohit delivered his first speech here. "I do not need to tell you the bio data of my father," he said. "If he contests the election and wins, he will sit in the front row in Parliament. This is my first visit to this constituency. Mujhe bhi apna aashirwaad dein."