2 in Muzaffarnagar riot FIRs get BJP tickets, one says have to deliver for Modi
Hukum Singh and Sanjeev Baliyan, declared candidates by the party in the riot-hit area.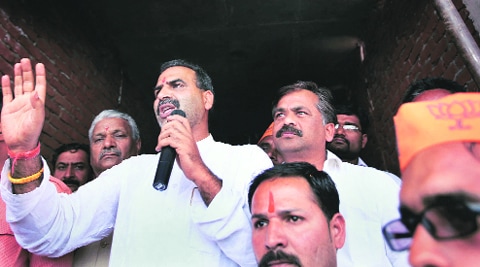 Sanjeev Baliyan at campaign in Daurala on Wednesday. OINAM ANAND
not go back to our village to vote, it is too dangerous. Nobody from the government has come to tell us if we can vote from where we are. Political parties too have forgotten about us," said Rashid Ali, originally from Kutba, one of the villages which saw the most violence.
"The only aid we get is from Muslim organisations. This time, our vote is for survival. We have no place to go, and no roof over our heads. Any party that comes to us and says we will help you, we will vote for. The sad part is, with a month to go for elections, not one party has even come and asked us about our plight," he added.
BSP MP, booked for hate speech, also files papers
Sitting BSP MP from Muzaffarnagar, Kadir Rana, also filed his nomination from the seat on Wednesday, with his wife filing nomination papers as an independent candidate. Rana was also booked for a hate speech in the run-up to the riots. Rana was with the Samajwadi Party until 2007, switched to the Rashtriya Lok Dal, but fought the 2009 elections on a BSP ticket.