1st or 2nd in half of Punjab segments, AAP optimistic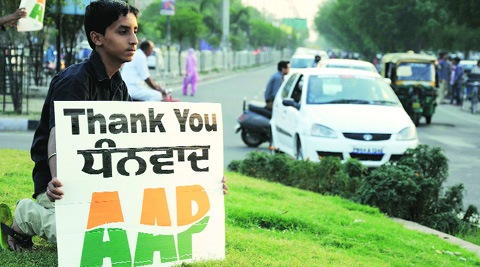 An AAP worker thanks Ludhiana after party candidate H S Phoolka finished second in the constituency. ( Source: Express photo by Gurmeet Singh )
The Aam Aadmi Party's four victories come with the signal that it is in a position to mount a strong contest in the next assembly elections in Punjab, having led or finished second in half the state's 117 segments.
The game has only just begun, members of the party's state working committee say after the party, in its first ever election in Punjab, led 33 assembly segments and finished second in 25 others. The party's emergence spread across constituencies held by the SAD and the Congress, and in both rural and urban regions.
The party's immediate target is the bypolls coming up in Dhuri, Talwandi Sabo and Patiala, AAP's Punjab convener Harjot Singh said. "We will contest the bypolls to enter the assembly and play the role of a real opposition," Singh said, stressing the Congress has never played that role. "Later it will be mission 2017 as we have given a scare to the SAD-BJP as well as the Congress," he said.
"We won four seats and could have easily won Ludhiana and Anandpur Sahib too, had our strategy been a little more correct." In Ludhiana, the AAP targeted the SAD's Manpreet Singh Ayali and independent S S Bains but it was the Congress who won. In Anandpur Sahib it focused on the Congress's Ambika Soni but it was the SAD who won.
"We washed away the Congress and the SAD from prominent assembly segments such as Mohali, Ludhiana West, Jagraon, eight constituencies of Sangrur, and four of Patiala. In Ludhiana we led four assembly constituencies," Harjot Singh said.
Ayali, the sitting Ludhiana MP, finished behind the AAP's H S Phoolka in his own segment of Dakha. In Ludhiana West, a traditional Congress bastion, the AAP pushed the Congress to number two.
In Faridkot's Jaitu, sitting Congress MLA-turned-Lok Sabha candidate Joginder Singh Panjgraian finished behind the AAP's Sadhu Singh. In Nihal Singhwala, the AAP led by over 58,000 votes. In Moga, where the SAD had won a bypoll about 15 months ago, the AAP led and relegated the SAD to third place.
To upstage the Congress as the principal opposition, the AAP now plans to stage dharnas and protests on issues such as power tariff hike, sand and drugs mafia, Harjot Singh said.
Phoolka, who lost to the Congress's Ravneet Singh Bittu by under 20,000 votes, has been holding thanksgiving rallies. "I am thankful to the masses for their response," he said. And Harjot Singh said the party will focus particularly on the youth as they were the ones who voted for the AAP en masse.
In Faridkot, free haircuts and discounts
Since the AAP's Prof Sadhu Singh's victory, Faridkot voters have celebrated in ways conventional and unconventional. A …continued »