Elections 2014: 1 vote, 2 that weren't in Naroda Patiya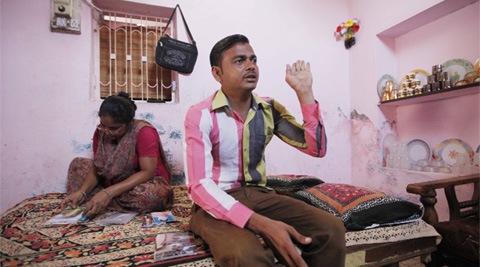 Raja Qureshi with his sister at his home in Naroda Patiya. (Express Photo: Javed Raja)
Yasmin Malek of Ode and Khwaja Husain of Naroda Patiya would have been 18 and first-time voters in Gujarat, but both were killed in the 2002 riots. Raja Qureshi survived and now can't wait to vote. Their stories.
Naroda Patiya: Raja Qureshi – 'The scars will stay with me till I am buried'
By Ujjwala Nayudu
The scar on his chest is smooth and tender. "See, this is what I have to see everyday. It will stay with me till I am buried," says Raja Qureshi. There are other scars that have stayed with him since that morning on February 28, 2002 — images of his mother and sister being hacked to death, the rioter who lunged at him, the cold knife against his chest, and a mad scramble over a neighbour's wall as he fled for his life. Raja was then 11. Now 23 and voting in his first election, he wants the scars of Naroda Patiya to stay with him more than ever before.
"I didn't vote the last election because I hated politicians. This time, I am voting to bring power to the common man," says Raja, sitting on the edge of the bed in his sister's two-room house in Naroda Patiya.
That morning, as he and his five elder siblings lay sleeping till late, his mother Zarina Begum had come rushing into their room, yelling and screaming, shaking them violently, asking them to run.
His father, Bundu Qureshi, a textile mill worker, had been away at work. Seconds later, a mob barged in. As Raja ran, he caught a glimpse of his mother being hacked and set on fire. As Raja ran towards friend Rajvir's house, a "big man" came running towards him and slashed his chest with a knife. Someone in the mob asked the man to spare the child, but the attacker had said, 'Yeh Musalman kal jaakar hum logon ko wapas maarega (They will attack us tomorrow)'. "That line still haunts me," says Raja.
The boy, bleeding and scared, managed to free himself. He scaled a wall and jumped into the camp of the State Reserve Police Force adjoining Naroda Patiya from where he fled to friend Rajvir's home.
"I survived because a Hindu saved me. Rajvir's mother hid me inside their store room. Later, she bathed me, gave me first aid and fed me. I survived."
He later moved to the Shahibaug relief camp in old Ahmedabad and remembers crying for a week before his father and sister Shabana tracked him down and he shifted with them to the Shah-e-Alam relief camp in the city. The family stayed there for six months before returning to Naroda Patiya.
Raja was among the riot victims who travelled to New Delhi in 2002 to depose before Justice J S Verma of the National …continued »