Yasmin Malek of Ode and Khwaja Husain of Naroda Patiya would have been 18 and first-time voters in Gujarat, but both were killed in the 2002 riots. Raja Qureshi survived and now can't wait to vote. Their stories.
Naroda Patiya: Raja Qureshi – 'The scars will stay with me till I am buried'
By Ujjwala Nayudu
The scar on his chest is smooth and tender. "See, this is what I have to see everyday. It will stay with me till I am buried," says Raja Qureshi. There are other scars that have stayed with him since that morning on February 28, 2002 — images of his mother and sister being hacked to death, the rioter who lunged at him, the cold knife against his chest, and a mad scramble over a neighbour's wall as he fled for his life. Raja was then 11. Now 23 and voting in his first election, he wants the scars of Naroda Patiya to stay with him more than ever before.
"I didn't vote the last election because I hated politicians. This time, I am voting to bring power to the common man," says Raja, sitting on the edge of the bed in his sister's two-room house in Naroda Patiya.
That morning, as he and his five elder siblings lay sleeping till late, his mother Zarina Begum had come rushing into their room, yelling and screaming, shaking them violently, asking them to run.
His father, Bundu Qureshi, a textile mill worker, had been away at work. Seconds later, a mob barged in. As Raja ran, he caught a glimpse of his mother being hacked and set on fire. As Raja ran towards friend Rajvir's house, a "big man" came running towards him and slashed his chest with a knife. Someone in the mob asked the man to spare the child, but the attacker had said, 'Yeh Musalman kal jaakar hum logon ko wapas maarega (They will attack us tomorrow)'. "That line still haunts me," says Raja.
The boy, bleeding and scared, managed to free himself. He scaled a wall and jumped into the camp of the State Reserve Police Force adjoining Naroda Patiya from where he fled to friend Rajvir's home.
"I survived because a Hindu saved me. Rajvir's mother hid me inside their store room. Later, she bathed me, gave me first aid and fed me. I survived."
He later moved to the Shahibaug relief camp in old Ahmedabad and remembers crying for a week before his father and sister Shabana tracked him down and he shifted with them to the Shah-e-Alam relief camp in the city. The family stayed there for six months before returning to Naroda Patiya.
Raja was among the riot victims who travelled to New Delhi in 2002 to depose before Justice J S Verma of the National Human Rights Commission (NHRC). Raja's testimony was the only one by a minor.
"When I was taken to New Delhi from the relief camp, they asked me to narrate everything, give names of the attackers, and details of deaths and losses. I told them that my mother and sister were cut into pieces by a few men who lived right next door. I saw saffron-clad men pulling women out by their hair and one of them was my ammi," he says.
After the riots, his father sent him to Raigad in Maharashtra, where his uncle enrolled him in an English-medium school. Two years later, he was back in Naroda where he went to a municipal school. But he says he dropped out soon after to earn for his sister Shabana's wedding. He did a few odd jobs, working at foundries and auto workshops. He now learns stitching at a textile unit in Naroda. "Some day, I will start my own textile business," he says in English. It's a language he uses sparingly and haltingly — to voice his aspiration and to send text messages on WhatsApp.
In the years after the riots, the family disintegrated. Raja is not on good terms with his father and his two elder brothers — one, a scrap dealer and the other an autorickshaw driver. His sister Shabana, with whose family Raja lives in Naroda Patiya, says the riots changed her "little brother". As a boy, she says, Raja was talkative, mischievous, stubborn and aggressive. He hardly talks now, is reserved, suspicious and has bouts of depression.
As Shabana packs his lunch, a flash of Narendra Modi on TV gets Raja agitated. "This is a hoax. Muslims in India, and even Hindus, will not forgive him for the deaths of their own people in Gujarat. He (Modi) may be unstoppable but God is the ultimate judge. Whenever I see Modi masks, I feel the killers are still around."
###
Naroda Patiya: Khwaja Husain – 'We used to have tea at Kodnani's place'
By Leena Misra
A little boy, in a bright red Pathani suit and with surma lining his eyes, stares from a grainy undated photograph. Next to this picture lies his post-mortem report issued by the Ahmedabad Civil Hospital on March 2, 2002. "Body is totally roasted and burnt…the cause of death is shock due to exhaustive burns on the body," it reads.
"I could not even bury him," says Abdul Majid Abdul Usman Shaikh, the father of the boy who was only six when he was killed in the Gujarat riots and who would have been 18 and eligible to vote had he been alive.
Khwaja is not the only child Shaikh lost in the riots. His four other children — sons Mehboob (18) and Husain (14), and daughters Shaheen (4) and Afreen (2) — were burnt to death along with his wife Lal Bi, who was pregnant at the time. His elder daughter Supriya (22) died a few days later. "She told the police that she had been raped by Guddu Chhara, Bhavani Singh and others — all our neighbours," says the 64-year-old, who is fighting for his unborn child to be recognised as "the eighth victim" from his family.
With family albums, inquest reports, petitions, and pictures of his burnt home strewn on his bed, Shaikh, who migrated from Gulbarga in Karnataka to Gujarat in 1967 and worked in a graveyard, recounts the events of that day, February 28, 2002: "It was jumme-raat (Thursday), and there was mayhem in Naroda Patiya. My Hindu neighbours were burning my family, and when I was trying to save them, someone cracked my skull with a sword."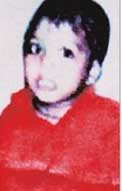 After being hit, Shaikh fell unconscious and was admitted to VS Hospital in Ahmedabad. On March 2, 2002, he was taken to the Ahmedabad Civil Hospital where he was asked to identify his dead kin, after which he shifted to the Shah-e-Alam relief camp. "A few days later, I was informed that the Naroda Patiya victims would be buried at a graveyard in Shahibaug. But by the time I reached, two men had already dug a pit in which the children's corpses were dumped on those of the adults," he says. "I couldn't bury the bodies of my own, even though I used to work in a graveyard and helped bury the dead."
There was another irony Shaikh encountered during the riots: Maya Kodnani, the former Gujarat minister who was convicted in the 2002 riots, and sentenced to life by the Supreme Court's SIT-appointed trial court for leading the Naroda Patiya rioters. But at one point, she was "our leader," says Shaikh.
"We were a group of Muslim karyakartas with BJP identity cards. We used to meet at Kodnani's place for tea. She asked us for our support when she first contested the Assembly elections and also gave us Rs 1,000-1,200 for slogan-shouting and party-related activities," he says. When Shaikh's wife was pregnant with their eleventh child, she consulted the ex-minister, also a gynaecologist.
About six months later, the friendly doctor turned enemy. "I saw Kodnani at the ST depot gate (near Naroda Patiya) on February 28. I walked up to her and asked her to save us from the riots, but she said, 'Go away'. I said, 'I am Majid'. But she said, 'Go, or you will get killed, the situation is tense'."
Seven years later, in 2009-10, Shaikh testified against Kodnani in the trial court. Today, he lives under heavy CISF and Gujarat police protection after he complained to the SIT of threats from Kodnani's camp. Now a grocer, he lives with his 28-year-old second wife Heena Kousar and his four children in a one-room house in Faizal Park.
The compensation — Rs 5 lakh for each of the seven victims — came in "staggered amounts", which he has invested in four shops. "It came from the Centre. We want money from the Gujarat government," he insists.
He no longer votes or works for the BJP. But in the 2002 Assembly elections and the 2004 parliamentary polls, he "voted for the BJP because the rioters would stand at the booth and threaten us". Khwaja's burnt glass marbles are all he has as memory of the boy whom he remembers as a mischievous lad. "Bahut gaali deta tha (He spoke a lot of abuses)," says Shaikh, smiling through his tears.
###
ODE: Yasmin Malek – 'We don't even have Yasmin's photo'
By Parimal Dabhi
Would Yasmin Malek have voted if she were around? Hard to say. But she would have turned 18, old enough to be counted among India's 23 million first-time voters. Instead, 12 years ago, she ended up being part of another statistic, one of 23 people killed in Ode town of Gujarat on March 1, 2002.
Yasmin was a year old in 1995 when her father Bashir Malek, a tractor driver in Ode, died of kidney failure. When her mother Mumtaz decided to remarry, she left Yasmin, her only child, with her brother Ali Mohammed Malek. So Yasmin spent her next six years with her uncle's family at Sokhda village near Savli in Vadodara district.
When she was around seven, Ali Mohammed decided to send her off to his sister Mehmuda in Ode because "there were no good schools for her here in Sokhda". So 'Sookhi', as the gangly Yasmin came to be known, went to school in Ode. "She was a bright child, could write all our names in Gujarati. But destiny had something else in store for her," says Mehmuda, one of the few Muslims in the Pirawali Bhagol area who survived that March evening." We don't even have Yasmin's photograph to show you," she says, wiping tears.
"It was a Friday, around 4.30 p.m. The men had gone to the mosque to offer namaz when we heard shouts outside. A huge mob had gathered in our lane and were throwing stones, burning rags and pouches filled with kerosene. There was smoke all around."
Pirawali Bhagol is a predominantly Hindu part of Ode, dominated by Patels, with only a few Muslim homes. So when the riots began, most of the Muslims took refuge in Jhanpaliwala Ghar, next door to Mehmuda's.
"We decided to join the others. Since we couldn't have stepped outside to go across to our neighbour's house, we went up to the first floor of our house and broke down a part of our mud wall to enter that house. By then, the rioters had locked that house from outside and set fire to it. It was impossible to breathe there," she says. "I scrambled back to our house with my children Imtiaz and Sartaj. Yasmin was left behind with my in-laws. We survived. All the others who stayed back in the other house were killed. Yasmin too," she says.
The attack stopped around 6.30 pm. Mehmuda's husband Majid, who rushed home from the fields when he heard of the attack, was one of the key witnesses in the case when it came up for hearing before a special trial court. After spending a month in a relief camp in neighbouring Bhalej village, the family shifted to Dhunadara village where they had an ancestral home and some land. "We don't feel like going to Ode now," says Majid.
In April 2012, a special trial court convicted 23 people and sentenced them to life in prison in the Ode riot case.
Majid lost 16 of his family members in the massacre and got Rs 15 lakh as relief. But Yasmin's compensation amount lies unclaimed in the district collector's office. "Though Ali Mohammed and I brought her up, they refused to let us claim the money," says Majid.
Both Majid and Ali Mohammed are on opposite sides of the political debate. While Majid is a Congress worker, Ali Mohammed says he is with the BJP. But there is one thing they agree on — that Narendra Modi did nothing to stop the riots.
"Yes, Modi could have stopped the riots, but he did not. Still, I am going to vote for him because our sarpanch, Rajubhai Patel, supports us a lot and I will vote for the party Rajubhai votes for. And he is voting for Modi," says Ali Mohammed, who is a voter in the Vadodara constituency from where Modi is contesting.
"I am voting for the Congress," says Majid. "Though there is talk of a Modi wave, I believe the Almighty will not let him be the PM." Would Yasmin Malek have settled their debate? Hard to say.
For all the latest India News, download Indian Express App