Bharatiya Janata Party witnessed remarkable comeback in Uttar Pradesh. The party won 71 out of 80 seats in the state. On the other Congress got just two seats (Amethi and Rae Bareli) while SP managed to get five seats. Meanwhile in Madhya Pradesh, BJP has won 27 out of 29 seats.
In Bihar, BJP wins 22 seats. Lok Jan Shakti Party manages to get 5 seats, Congress gets 2 seats, JD(U) gets 2 while RJD gets 3 seats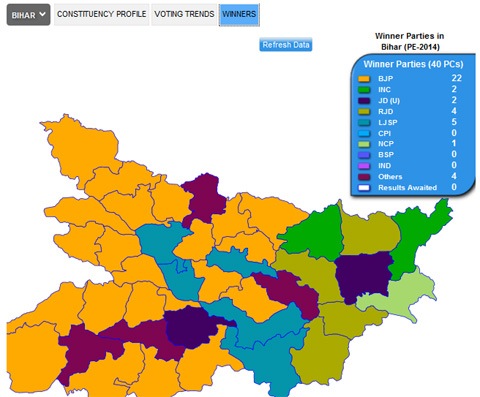 In Jharkhand, BJP wins 13 out of 14 seats. Jharkhand Mukti Morcha wins one seat
In Chhattisgarh, BJP wins 10 out of 11 seats, Congress wins just one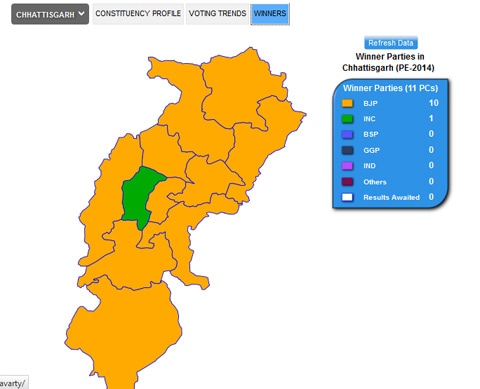 In Uttar Pradesh, BJP wins 71 seats. SP wins 5 and Congress wins 2 seats.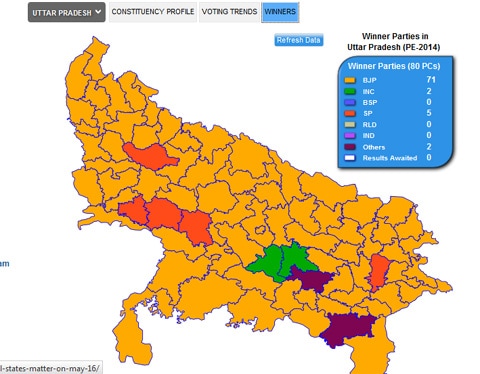 In Madhya Pradesh, BJP wins 27 out of 29 seats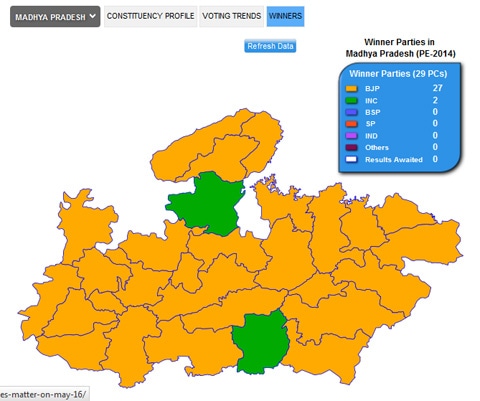 5:20 pm: Rahul Gandhi wins in Amethi.
4:53 pm: BJP wins 63 seats in UP.
ALSO READ: In Madhya Pradesh, Chouhan gives full credit to Modi
4:47 pm: BJP's Giriraj Singh wins from Nawada, Bihar
4:40 pm: BJP wins 56 seats in UP so far.
4:15 pm: Dimple Yadav wins from Kannauj.
3:45 pm: In Chhattisgarh, BJP wins 8 out of 11 seats so far
3:13 pm: BJP wins 53 seats so far in UP. SP and Congress able to win only one seat each so far.
2:56 pm: BJP wins from Bilaspur, Raigarh, Janjgir Champa, Rajnandgaon and Bastar so far in Chhattisgarh
ALSO READ: In Jharkhand, BJP leads in 12 out of 14 seats so far
2:21 pm: Jyotiraditya Scindia wins from Guna, Madhya Pradesh
ALSO READ:  With JD(U) staring at big defeat, BJP talks of fall of Bihar government
2:18 pm: BJP's Maneka Gandhi wins from Pilibhit.
2:11 pm: Sonia Gandhi wins from Rae Bareli
2:09 pm: SP chief Mulayam Singh Yadav wins from Mainpuri, Uttar Pradesh.
2:05 pm: Yogi Adityanath of BJP wins from Gorakhpur, Uttar Pradesh
1:58 pm: Uma Bharati wins from Jhansi, Madhya Pradesh.
1:55 pm:  BJP's Dinesh Kashyap wins from naxal affected Bastar of Chhattisgarh
1:45 pm: Chhedi Paswan of BJP wins from Sasaram seat in Bihar.
1:03 pm: Uma Bharati is leading in Jhansi.
12:31 pm: Kamal Nath of Congress wins from Chhindwara, MP
12:18 pm Chirag Paswan of LJP wins in Bihar.
11:57 am: Narendra Modi wins from Varanasi.
11:56 am: BJP's Satya Pal Singh wins from Baghpat, Uttar Pradesh.
11:40 am: BJP's V K Singh wins from Ghaziabad.
11:00 am: BJP's Sushma Swaraj wins from Vidisha, Madhya Pradesh while Varun Gandhi wins from Sultanpur.
10:38 am: Murli Manohar Joshi is ahead of Shriprakash Jaiswal of Congress with more than 23,000 votes in Kanpur.
 10:36 am: In Lucknow, Rajnath Singh of BJP is ahead of Rita Bahuguna Joshi of Congress with more than 11,000 votes.
Latest update: LJP leader Chirag Paswan said initial trends had been very encouraging but he would wait till final results to celebrate. LJP leader Chirag has been leading from Jamui. Chirag said NDA had always been confident of victory and it was only matter of time.
(with inputs from Santosh Singh)
10:34 am: Narendra Modi is ahead of Arvind Kejriwal with more than 24,000 votes in Varanasi.
10:32 am: Rahul Gandhi is ahead of Smriti Irani with more than 3000 votes in Amethi
10:02 am: Smriti Irani is ahead of Rahul Gandhi with 376 votes in Amethi.
10:02 am: Mohammad Kaif is leading in Phulpur.
9:50 am: Kalraj Mishra of BJP is leading in Deoria, UP.
9:47 am: Nagma of Congress is leading in Meerut.
9:29 am: Iram Masood of Congress is leading in Saharanpur.
9:21 am:  BJP is leading in 33 seats in UP
9:19 am: Shazia Imli of AAP is leading in Ghaziabad.
9:15 am: Jaya Prada of RLD is leading in Bijnore.
9:14 am: Hema Malini of BJP is leading in Mathura.
9:12 am: BJP is leading in 22 constituencies in UP.
9:11 am: Sonia Gandhi is leading in Rae Bareli.
9:03 am: Ajit Jogi leading in Mahasamund.
8:58 am: Out of 11 constituencies in Chhattisgarh, BJP is leading in 8 seats while Congress is leading in other three seats.
8:56 am: Jyotiraditya Scindia of Congress is leading in Guna, MP.
8:55 am: Congress' Kamal Nath is leading in Chhindwara, MP.
8:53 am: BJP's Sushma Swaraj is leading in Vidisha, MP.
8:50 am: Samajwadi Party's Dimple Yadav is leading in Kannauj.
8: 48 am: BJP's Smriti Irani leading in Amethi.
8:47 am:  Varun Gandhi leading in Sultanpur.
8:42 am: BJP's Yogi Adiyanath leading in Gorakhpur.
8:40 am: Maneka Gandhi leading in Pilibhit.
8:38 am: BJP senior leader Uma Bharati is leading in Jhansi
8:36 am: Mulayam Singh Yadav leading in Mainpuri, Rita Bahuguna Joshi is leading in Lucknow.
8: 29 am: Narendra Modi leading in Varanasi
8:26 am: BJP leading with 7 seats in Uttar Pradesh.
8:20 am: BJP leading in 22 rural seats while Congress leading in 9 rural seats.
8:15 am: BJP leading with 2 seats in Madhya Pradesh.
PREVIEW
With 80 seats, Uttar Pradesh holds the key to the formation of a next government at the Centre. In a bitterly fought elections, the state witnessed few high profile contests including Narendra Modi vs Arvind Kejriwal in Varanasi and Rahul Gandhi vs Smriti Irani in Amethi. Apart from this, the fate of several other heavy weights like Rajnath Singh, Murli Manohar Joshi and Rita Bahuguna Joshi will also be decided.
ALSO READ FROM UTTAR PRADESH
The election results in Bihar will also be watched keenly as Chief Minister Nitish Kumar is facing an strong anti-incumbancy. Key leaders in the fray are Meira Kumar, Rabri Devi and Ram Vilas Paswan.
ALSO READ FROM BIHAR
In Madhya Pradesh and Chhattisgarh, the BJP is likely to hold sway. Top leaders in the fray are Sushma Swaraj, Lakshman Singh, Jyotiraditya Scindia, Vishnu Dayal Ram, Manoj Kumar, Dinesh Kashyap and Soni Sori.
ALSO READ FROM JHARKHAND , MADHYA PRADESH
(These are the data available till 8 pm)
For all the latest India News, download Indian Express App