UP's hardened caste lines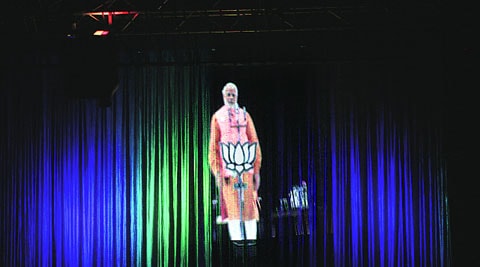 The 3D hologram appears in Lucknow; it has awed many in UP's smaller towns. Vishal Srivastav/file
A large, saffron container on a parked truck showcases a 3D screen on which appears a man doing the mike tests in English with a Gujarati accent before a crowd at Jamania town in Ghazipur constituency of Uttar Pradesh. The buildup is for a Narendra Modi address. An awed crowd, most of whom have never seen a 3D performance, watch previous Modi speeches playing out.
Snack trolleys do brisk business as the light fades out. This is Modi direct to home in relatively obscure parts of the heartland, striking a connect through technology — a ploy he has used in Gujarat. "One has to say Gujarat has progressed," says someone in the crowd as the 3D show becomes a symbol of what Modi calls the Gujarat model.
A few days earlier at his home in Lucknow, UP CM Akhilesh Yadav, just back from campaigning in Patan and Mehsana, reels out his initiatives to demolish the Gujarat model. "It's overstated. He speaks so much about the Sabarmati riverfront, I am making the biggest park in Asia. They talk about making Internet free, but what use is it without a computer? I have distributed 15 lakh free laptops. The BJP is like a good soap company, trying to sell a jhatpat economy."
In a Kurmi settlement in Ambedkarnagar, Mithilesh Kumari is the proud owner of one such laptop. Her younger brother is trying to get a hang of the device, which is often used to watch films. "Our family will vote for Akhilesh," she says, but her father is noncommittal. This village is tilting towards the BJP, owing to a communal incident.
Between Modi's 3D show and Akhilesh's laptops, there is a voter catchment of the upwardly mobile, which cuts across castes and is today clearly perched on the Modi bandwagon. In 2012, this lot had firmly gone with Akhilesh. "Akhilesh has been a disappointment. Rahul Gandhi too is like Akhilesh. We are not committing the same mistake again. So what if we are Yadavs, we will go for Modi, we need jobs and prosperity," says Sanjay Yadav, supported by young friends in a prosperous Yadav village in Ambedkarnagar.
In a Brahmin village just outside Ayodhya, the chorus for Modi is even louder. Ramesh Tiwari and his friends, all of whom depend on small farm holdings, say: "Enough is enough. We need change. This time it has to be the BJP and even the Dalits are supporting us."
In a busy Ayodhya market, youths Rajit Ram and Ashok chant the Modi slogan when asked about the political mood. But the near mocking tone is a giveaway; they later confide they are from the SCs. "You must understand, our vote can only be for Mayawati and the BSP."
If the 3D show, the aspirational Yadav youth, the …continued »