Their man the CM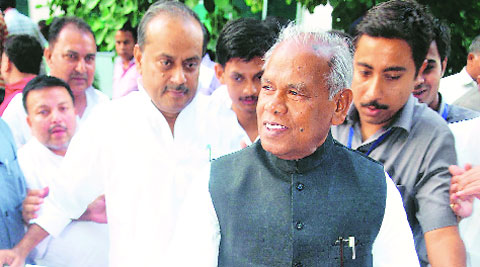 Jitan Ram Manjhi after being sworn in as Bihar CM at Governor House in Patna
khate hain aur taadi peete hain (We work as labourers and then drink toddy)," he says, referring to the other stereotype about Musahars being toddy sellers and mostly heavy drinkers.
Villagers say only a few of them are involved in toddy selling. "One gets only Rs 10 per lota (a water pot that can hold up to 1 litre). Most toddy buyers are poor and it's not worthwhile to do this business given the work involved in climbing up palm trees," says Pankaj Manjhi. Some villagers, however, claim "neera (toddy collected early morning before the sun ferments it) is very good for health".
As for rat eating, Ajay Manjhi says this is almost non-existent now, though some living in Munger and Lakhisarai hills may still eat the meat. "Musahars have begun to see rat eating as a blot and are slowly stopping it," says Ajay.
He believes the change has come about because of the Mahadalit schemes launched by the Nitish government. "As we got some cash from these schemes, it did ensure us a fixed annual earning."
Jitan Ram Manjhi being in politics for over 30 years has also helped. "We have approach roads and schools because of his efforts," Ajay says.
While Jitan Ram has now made it to the state's highest post, no villager in Parbatti Nagar is in politics, not even at the panchayat level. "Jitan is the only politician we know," says Gangu Ram Manjhi.
The Musahars are considered aggressive and loyal JD(U) voters, almost in the same manner as Yadavs are an RJD vote bank. 'Teer (arrow)', the poll symbol of the JD(U), is the only election symbol most Musahars recall.
Murti Devi, four of whose six sons are migrant labours, shows her thatched house in Parbatti Nagar with a small room and an open courtyard. She lives with her two sons, one of whom is physically disabled. Murti, who says her sons do not support her except for bringing her clothes sometimes, wishes the CM could see how they lived. "At least, we should expect an Indira Awaas house now."
The Class VII student from Mahakar, Chunnu Manjhi, hopes for a high school. "Then i won't have to go to Karpi, 3 km away." Teenagers say that the village must get the status of a block town like RJD president Lalu Prasad's Phulwaria village in Gopalganj. They want better approach roads, a full-fledged hospital and a police station.
But Murti Devi has her doubts. "Officers come and at times mediapersons too, and write our names. Our hopes are rekindled each time. But nothing happens."
After all, the story of Dasrath Manjhi, who occupied the CM's chair for a few brief moments and who is set to feature in a Bollywood film this year, saw another ignominous chapter this month. Dasrath had begun carving the road out of a mountain pained by his wife's death due to delay in medical care.
Thirty-five years later, Dasrath's daughter-in-law Basanti Devi, an asthma patient, too died due to lack of medical attention. A hospital started in Dasrath's name …continued »