Their man the CM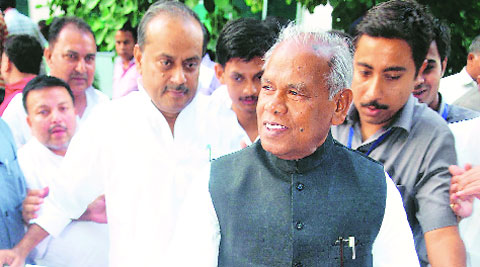 Jitan Ram Manjhi after being sworn in as Bihar CM at Governor House in Patna
and visit the village around the paddy season as there is work to be done here then. They get paid around Rs 150 per day or 3 kg rice daily along with breakfast and lunch. None from the community has a government or private job.
Over 95 per cent of the houses are kuchcha and the rest semi-pucca and, when it rains, they take shelter in the village middle school building, which has cemented classrooms and a handpump. Most of the children attend the school only for the free mid-day meal, after which they return home to help parents at work. Elders have taken to hanging around the largely empty building — "the best structure in the village" — to play cards or just chat. The building is also the venue for all village wedding festivites.
Most children drop out of school after Class V and others after Class VIII. Though there is a high school 5 km away, most parents do not send their children there. "By the time one reaches teens, one thinks of earning. Teenagers either work in adjoining villages or migrate to Punjab and Delhi to brick kilns," says Rajendra Manjhi (30). There are no matriculates in the entire village.
Ajay Manjhi is better placed as his wife works for an aanganwadi, adding to the family income. He has a mobile phone to show for it.
With a CM from among them, villagers hope the benefits of all the Mahadalit schemes launched by the JD(U) government will finally reach them. As a villager accuses officials of failing to do their bit, a youth brings out the radio set he got under one of the Mahadalit schemes. Pointing to the radio's "poor quality", Ganori Manjhi says: "It would have been better if the government had given us Rs 400 in cash."
The village has no electricity. While some have purchased solar panels to charge their mobile phones, they say they can't afford batteries for the radio sets.
They did get the benefits of the Kabir Antyesti Yojana, that provides money for performing the last rites of near and dear ones. However, instead of the allocated Rs 1,500 per death, villagers say they have been getting only Rs 1,000.
The village middle school has over 250 students. A Mahadalit student from Class I to IV gets Rs 600 scholarship per year, a Class V and VI student Rs 1,200 and a Class VII and VIII student Rs 1,800 per year. Besides, students get Rs 500 each for uniform and shoes.
Not a single family from Parbatti Nagar has got an Indira Awaas Yojana house, nor the free 3 decimals of land to raise a house. Says Kalo Devi: "We have heard about it, but no government official came here. All of us are landless."
They have not heard of some of the other schemes — such as health cards, free vocational training and Rs 300 to build a toilet at home.
Ask what the villagers generally do and 30-year-old Rajendra Manjhi surmises in one line. "Majuri kar ke …continued »