Their man the CM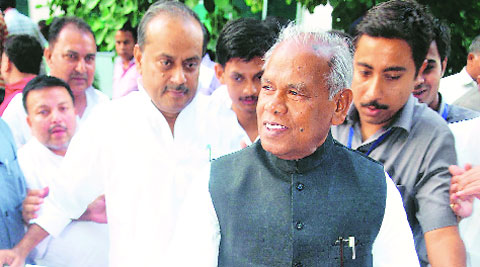 Jitan Ram Manjhi after being sworn in as Bihar CM at Governor House in Patna
school after Class V, cultivates the land to make a living. Upendra says earlier Jitan Ram too used to work in the fields. "He still likes to work in the fields. He is humble and does not bother about what people might think," says Upendra.
The family has two cars. While the sons use the Scorpio, Jitan Ram prefers his old Ambassador.
Upendra points out proudly that Jitan Ram's room, now locked since the family is in Patna, is the only one that is air-conditioned in the village. Upendra is also particular about another family "asset", also rare here — the refrigerator. "We get 17 hours of power here, thanks to mamaji," he says, instructing his assistant to offer cold water to the policemen now deployed at the house for security, but after "adding some normal water". "We can't give them totally chilled water."
Just 500 metres from Jitan Ram's house are the houses of the other nine Manjhi families of Mahakar. Upendra's own house is the envy of others, both for being semi-pucca and for its air-cooler. Rukmin Devi, a relative of Jitan Ram, often drops in at Upendra's house just to catch the cooler's breeze for a few moments. Her thatched house, which doesn't even have a door, is unbearable in the summer months. An electrical bulb outside is kept on day and night — charged a fixed rate for power, they don't see the need to switch it off. Rukmin's husband Tantu Manjhi works as a petty farmer.
Says Kamla Manjhi, a neighbour: "We are labourers. We work in the fields during wheat and rice seasons and take up odd jobs." She adds that they came from adjoining villages to settle down in Mahakar at the insistence of Jitan Ram. The new CM wanted his relatives to come to the village because it had only a few Manjhi households.
"Now that he has become CM, he should make some difference to the lives of Musahars," Kamla adds.
Even the Yadavs, traditionally RJD followers, are looking forward to a fellow villager taking over as CM. "Can he do something to get us water in this dry land? Can he get us a water tank?" asks Vikas Yadav. An elderly Yadav adds, "Hope he continues to recognise us."
Around a kilometre away from Mahakar is Parbatti Nagar, where the Musahars make up 75 per cent of its population of 4,000. A kuchcha road leads up to the village. The day after Jitan Ram's swearing-in, a handpump that had been sanctioned a while ago was installed overnight. It is the third handpump in the village, where groundwater table is very low because of land being arid and full of rocks. The village used to have two wells, but these dried up long ago.
Parbatti Nagar is a village of daily wage labourers, 40 per cent of whom between the ages of 18 and 50 have migrated to places such as Delhi, Ludhiana in Punjab and Aligarh in UP for work. Most of them are employed in brick kilns …continued »