Their man the CM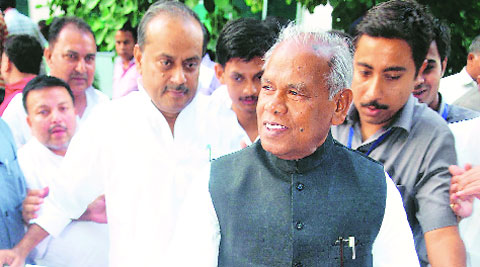 Jitan Ram Manjhi after being sworn in as Bihar CM at Governor House in Patna
Chandrashekhar Singh-led Congress government in the early 1980s, served as a minister of state for education in the RJD government in the mid-1990s, and was the SC/ST Welfare Minister in the Nitish government till he became CM.
At Mahakar's middle school (Classes I to VIII), walls are covered with slogans encouraging voting and warning against smoking in public. Of the more than 300 students on the school's rolls, only 14 are Manjhi. Just behind the school is the six-bed additional primary health care centre that came up in 1980. The centre gets around 100 patients daily in its out-patient department. Serious patients are referred to hospitals in Khizarsarai and Gaya.
At the school, Chunnu Manjhi, a Class VII student and the son of a labourer, is proudly writing 'Shri Jitan Ram Manjhi' in Hindi on the blackboard. Chunnu's classmate Gunjan Kumari, however, draws more cheers when she writes the CM's name in English.
The only fully pucca house in the village belongs to Jitan Ram. Located near the school, it stands out for its size — it has 18 rooms — and its fluorescent green colour. Jitan Ram and younger brother Govind, a police inspector, now deceased, built the house in the mid-1980s. Jitan Ram's elder son Santosh Kumar Suman says he chose the colour for its brightness and distinct look.
The family's fortunes, villagers say, are tied to the fact that Jitan Ram's father Ramjeet Manjhi, a labourer, encouraged his sons to study. Jitan Ram is a graduate and he himself ensured that all his seven children, including five daughters, did at least their graduation. Santosh is a Ph.D. Jitan Ram's wife Shanti Devi never attended school.
Santosh, who teaches at a private college in Wazirganj (Gaya), divides his time between the village and the family's home in Godavari area of Gaya town. Santosh has dropped Manjhi from his surname, as has his younger brother Pravin Kumar, who works for a social organisation. The two say they prefer Suman as their surname.
Of Jitan Ram's daughters, Sunaina Devi is a a ward councillor in Gaya and her husband works as a clerk in a college. Pramila, who stays in Ranchi, works as a beautician. Ruby is a supervisor with the Health Department's Integrated Child Development Services in Gaya. Prabha and Bebi are homemakers.
Upendra, Jitan Ram's nephew and the caretaker of his house, says: "Mamaji (uncle) ensured that all his children studied for he believes that only education can empower one and dismantle caste differences. I regret not having studied beyond Class V but I am proud I am working for the CM now."
Since Jitan Ram's swearing-in on May 20, Upendra has had his hands full. His phone keeps ringing with queries about the new CM, his family and their background.
Upendra, originally from Atri (barely 20 km from Mahakar), has been living with Jitan Ram's family for over 20 years. The CM has 19 bighas of agricultural land in the village, in which they harvest two crops. Upendra's younger brother Jitendra, who also dropped out of …continued »