Their man the CM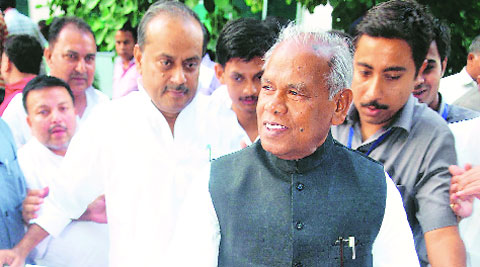 Jitan Ram Manjhi after being sworn in as Bihar CM at Governor House in Patna
Musahars have long been trying to break free of their image.  Jitan Ram Manjhi's elevation, his native region hopes, will do it for them. Santosh Singh reports. Photographs by Prashant Ravi
Before he stepped down as chief minister last week, Nitish Kumar had given up his chair once earlier. It was for Dasrath Manjhi, Bihar's 'mountain man' who is believed to have dug through Gaya Hills almost single-handedly for 22 years to carve out a road between Atri and Wazirganj, cutting the distance from 40 km to 8. Dasrath, who died in 2007, had come to visit Nitish and a respectful CM offered the 75-year-old his chair for 5 minutes.
Jitan Ram Manjhi is in his third stint as minister. However, for his community of Musahars, Jitan Ram's ascension to the CM's chair — even if symbolic — is no less than the parting of a mountain.
The lowest of the low in India's inflexible caste hierarchy, the Musahars make up around 5.5 per cent of Bihar's population, of which less than 10 per cent are literate. In new CM Jitan Ram Manjhi's village and around, there are only a handful of Musahars who are graduates. Electricity is rare and a handpump that was installed the day after Jitan Ram was sworn in a major source of excitement. There are eight Musahar MLAs (including Jitan Ram) in Bihar's Assembly of 243, and Jitan Ram is the first Musahar in the country to occupy a position as senior as his.
Mostly, the community is used to being identifed only by the image its name conjures up — 'Musahars' meaning the rat eaters, though at least in Gaya, it is rare to find someone fitting that description. Helped largely by the JD(U) government's Mahadalit schemes, the Musahars of Gaya, like Jitan Ram, have taken some steps up the economic, if not social, ladder.
On the road to Jitan Ram's paternal village Mahakar in the Khizarsarai block of Gaya, there is still disbelief over Nitish naming him CM after resigning over the JD(U)'s rout in the Lok Sabha elections. More than Jitan Ram, Nitish is the hero here. "Nitish might have lost the elections but he has became a very big leader by making a Mahadalit the CM. Nitish has reserved a place for himself in history," says Sonu Kumar, Jitan Ram's neighbour and an undergraduate student at a Biharsharif college.
The Musahars make up around one-tenth of Mahakar's 100 households. The village also has Yadavs, Kahars (an extremely backward class) and upper caste Bhumihars and Brahmins. Jitan Ram's long stint as an MLA since 1980 has brought Mahakar a middle school, an additional public health care centre, a sub-health centre and, most importantly, an electricity connection. Jitan Ram was deputy minister for land reforms and revenue in the …continued »