The professionals behind BJP's Internet campaign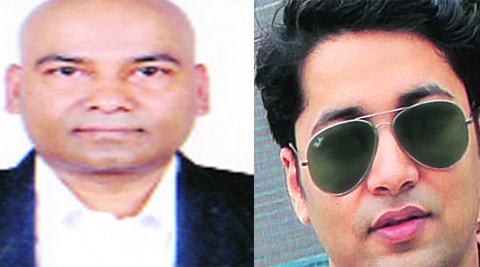 Santosh Gupta quit London job to work with BJP IT cell and (right) Vikas Pandey helps run 'I Support NaMo' account.
Having travelled across the US, Europe, and Japan in a professional journey of close to two decades, Santosh Gupta had decided to settle in London after landing a job with American Express. But it was not to be. Around six months ago, his life took an unexpected turn. "I don't have a political background but I was always interested in politics. I was disappointed with Indian politics and politicians, and then I came across some like-minded people online and we started talking. I was inspired to do my bit in bringing about the change I felt the country so badly needed," says Gupta, 42, who decided to take a break from his work and travel to India to participate in the election process. His employers refused him leave, so he quit his job, moved to India and, for the past six months, has been working with the IT cell of the BJP as a volunteer.
The BJP's IT cell is, in fact, run entirely by young, mid-career professionals from sectors such as banking and financial services, IT, media and entertainment who have put their mainstream life on halt and plunged into the virtual world of politics. Their tactical moves include initiating and driving social media conversations on Twitter, Facebook, Google Groups and WhatsApp, writing blogs, creating and editing online content, translating it into regional languages and making moves to nullify attacks from adversaries.
Vinod Kumar, an IT professional working in Sri Lanka, managed to get leave for about three months. He is currently working with Vikas Pandey, 32, an IT professional employed with one of the world's largest global IT companies in India. The two run a Twitter account, "I Support NaMo", and a YouTube channel of the same name. "'I Support NaMo' is the second most popular channel on YouTube in the political space with close to 55 lakh views," says Pandey, part of a team making videos and creating content highlighting positives of the BJP and Narendra Modi.
Kalpana Ravi worked with an entertainment channel in Mumbai before she took a sabbatical. "I have been travelling across the country for the past six months or so at my own expense. At times, I have been provided accommodation by some party workers and other volunteers and that's all the support I have got," says Kalpana who, besides training party workers on social media dos and don'ts, organises online hangouts such as chai par charcha and contributes to the BJP's Facebook page.
Yamir Bhatt, art director with leading multi-channel retailer Home Shopping Network in the US, spends around four hours a day outside of his job, leading a Google group called "Narendra Modi for PM" and a Facebook page called "Vote for …continued »