UP's SP govt has opened a park named after socialist leader Janeshwar Mishra in Lucknow, a city already packed with parks and gardens named after Dalit icons and opened during Mayawati's tenure. Lalmani Verma makes a checklist
Janeshwar Mishra Park
376 acres
Opened this week, planned as the grandest of the lot. It has a 10.5-km walkway and a water body with gondolas, and will get a 5.28-km cycle track. Has rose, English, French, bougainvillaea, bamboo and lily gardens. A proposed multi-activity zone will include facilities for cricket, football, volleyball, tennis, horse riding, along with a skating rink, a workout zone and an adventure zone. A statue of Janeshwar Mishra has also been planned. The government has already spent Rs 135 crore on the park, which replaces Dr Bhimrao Ambedkar Harit Park, renamed in 2012. "When the BSP comes back to power, we will rename the park after Bhimrao Ambedkar," says the BSP's Swami Prasad Maurya, Leader of the Opposition in the assembly.
Mulayam regime (2003-2007)
Ram Manohar Lohia Park
80 acres
The other green contribution by an SP government, opened in 2005, has 18-ft bronze statue of Lohia, water body, walking tracks with music systems and open gymnasium. SP spokesperson Rajendra Chaudhary says,"There is greenery in both these parks. Socialist ideology does not believe in use of stones in parks."  Stonework and bronze statues mark most parks opened during the BSP regime.
Mayawati regime (2007-2012)
Bhimrao Ambedkar Samajik Parivartan Sthal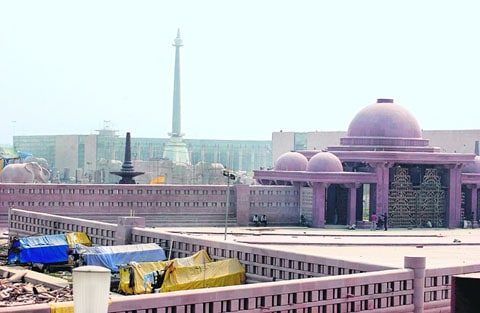 107 acres
Near Gomti river. Features include memorial building, elephant gallery, statues of Mayawati (over a dozen), Bhimrao and Ramabai Ambedkar, Kanshiram, other Dalit icons.
Ambedkar Samajik Parivartan Prateek Sthal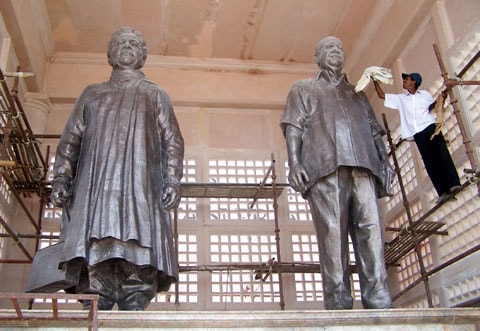 2 acres
On Gomti embankment. Completed in 2008, revamped in 2010. Statues of Kanshi Ram and Mayawati (on a pedestal), Bhimrao and Ramabai.
Ambedkar Gomti Park
22 acres
Near Gomti barrage. Dynamic musical fountain draws at least 200 to 300 people daily. The park is largely stone, with parts covered by greenery.
Bhimrao Ambedkar Gomti Vihar
70 acres
Four sections, each 15-20 acres, along the embankment.
Kanshiram Green Garden
73 acres
Again by the Gomti, mostly marble and stone, with bronze statues of wild animals, bronze replicas of palm trees. Developed by Mayawati govt, greenery increased by SP govt.
Kanshiram Smarak Sthal
60 acres
On VIP Road. Previous Mayawati tenure set up maidan for public  events, next one added memorial  with 18-ft statues of Kanshi Ram
and Mayawati, elephant gallery.
Buddha Vihar Shanti Upwan
10.81 acres
On VIP Road. Maya, Kanshiram and Buddha statues, library on Buddhism.
Older parks
Begum Hazrat Mahal Park; Gautam Buddha Park; Laxman Mela Ground; Joggers Park on Hardoi Road; Hathi Park; Globe Park; Shahid Smarak; Ram Manohar Lohia Park (Chowk); GPO Park; Neebu Park
Pune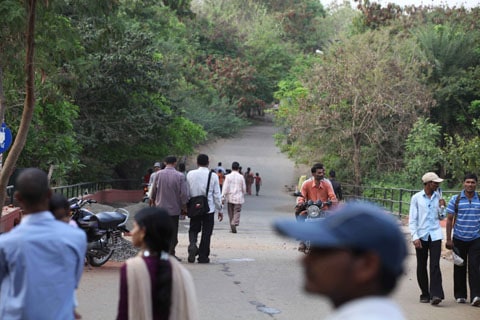 3.89% of city comprises parks, gardens and open green spaces thanks to campuses, defence-run grounds and 117 corporation-run gardens spanning 431 acres. Pune Race Course is 118.5 acres, Rajiv Gandhi Zoological Park 165 acres.
Chandigarh
Known as the 'City of Gardens' for Botanical Garden (176 acres), Rose Garden (30 acres), Rock Garden (40 acres) and many others spanning 30 acres or less.
Nagpur  0.45% of 217 sq km city is covered by parks and gardens. 79 gardens with municipal corporation cover 45 acres, gardens with Forest Department and Punjabrao Krishi Vidyapeeth (whose Satpuda Botanical Garden is 25 hectares) cover another 45 acres.
Delhi  16,400 parks and gardens in NCT, total about 7,043 hectares. Haus Khas Lake Garden and Deer Park is 400 acres, DDA City Forest 800 acres, Aravali Biodiversity Park 692 acres.
For all the latest India News, download Indian Express App