The IT factor: High-tech campaigns of high-profile candidates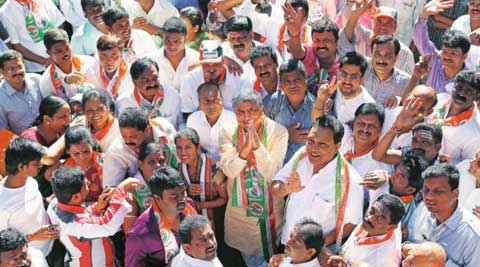 Tech billionaire Nandan Nilekani is contesting the April 17 election. (Express Photo)
Nandan Nilekani, former CEO, Infosys; V Balakrishnan, former CFO, Infosys. One the Congress candidate from Bangalore South, the other standing on an AAP ticket from Bangalore Central. The Sunday Express follows their high-tech campaigns as they wade into the rough and tumble of politics. Photographs by Kashif Masood.
 'I'm bringing knowhow from my previous roles'
When Apeksha M, a dentist in south Bangalore, logged into her social networking account, the candidate's digital banner ads followed her every click. In TV commercials, he asserted in Kannada that he would build a better city. When she drove her car in the city, FM Radio ads extolled his virtues. On the crowded roads, huge hoardings with his large black-and-white photos loomed. In peak-hour traffic, city buses whizzing past her had his message and picture splashed across their sides.
For the 1.8 million voters in Bangalore South, one of the city's three Lok Sabha constituencies, there is simply no getting away from the fact that tech billionaire Nandan Nilekani is contesting the April 17 election. Long before the Congress declared his candidacy, much before the election dates were declared, and even before he became a formal party member, Nilekani's election campaign had already got off to a high-velocity, high-profile start.
Nilekani's fight is tricky for more reasons than one. Opponent Ananth Kumar of the BJP has coasted to five consecutive Lok Sabha victories. The contest is at least three-sided with the entry of an Aam Aadmi Party candidate, child rights activist Nina Nayak. The timing is fiddly for Nilekani — he is contesting on a Congress ticket when the party's standing has depleted to a historic low. With little previous political or election experience of his own, Nilekani, 58, has to give it his all.
What Nilekani does have is operations management expertise aplenty. His two decades plus as co-founder and then CEO of IT services firm Infosys, and his half decade in the government hobnobbing with national politicians and chief ministers to push through Aadhaar, the biometric unique identity scheme, is coming in handy. "I am taking the knowhow from my previous roles and grafting it onto the political establishment," says Nilekani in a conversation at his home one recent evening.
He believes it is an election strategy unlike any other. "We are integrating classic methods with social media and analytics, and then combining that with an operation driven by a large volunteer base," Nilekani says. "Nobody has fused the three in quite this way before."
The candidate already has a message pinned down, too. In an infrastructure-starved, politically-neglected city in search of a saviour, Nilekani is moulding himself as Bangalore's champion. Data points gush forth in his speeches: Bangalore is the fastest growing city for …continued »