Prime Minister Narendra Modi departed from tradition and spoke extempore on his vision of India. Here are the issues Modi discussed in his speech.
'Come, Make in India'
Prime Minister Narendra Modi on Friday invited the global business community to set up manufacturing facilities in India giving the slogan 'come, make in India'. In his maiden independence day address, he exhorted the youth to become entrepreneurs and manufacture 'zero-defect' goods with a view to make the country a global export hub. He said global businesses can invest in a wide range of areas including electrical, electronics, chemicals, pharmaceuticals, satellite and submarine. India's young population have skill and talent which will help India in making the country a export hub of the world, he said, asserting that focus on manufacturing sector would help in creating employment for people besides maintaining balance in exports and imports. "I would like to tell the youth that our dream should be taking the 'Made in India' brand at every nook and corner of the world," Modi said.
Here are the highlights from PM's speech
Pointing out that India's second largest import is of electronic items after crude oil, Modi said: "With Digital India dream, we should focus on electronic goods manufacturing. It will also result in gain to the government's exchequer".
'Construct separate toilets for girls in schools in next one year'
Stressing on "dignity of women", PM Modi urged parliamentarians and the corporate sector to help build separate toilets for girls in schools across the country by next year. "I want to start one work from today. There should be a toilet in all the schools of our country. A separate toilet for girls…it is only then our girls will not have to quit schools.
He also set a year's target to achieve this goal. "When we again meet here next year, we should be able to stand here with confidence that there is no school in the country where there is no separate toilet for girls and boys," he said.
Modi also pitched for making provisions for building toilets wherein women should not defecate in open. "Women and sister wait for dusk. Until then they cannot relieve themselves. How much pain their body will be going through?…How many diseases they must be prone to? Can't we make provisions for a toilet for the dignity of our mothers and sisters," he said.
PM asks neighbouring countries to jointly work to end poverty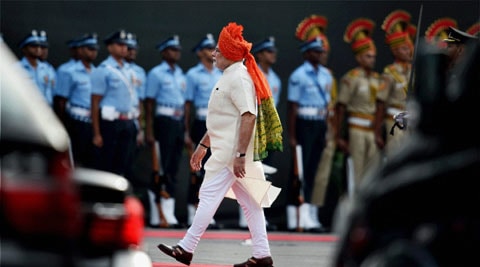 PM Modi gave a clarion call to all neighbouring and SAARC countries to work "shoulder-to-shoulder" to remove poverty from the region, leaving behind the world of death and killings. Modi said he wants India to emerge stronger as a country so that it can contribute significantly to the betterment of the world.
"India will extend full cooperation to SAARC and also seek the same from it to wage war against poverty," Modi said.
"Why can't the SAARC friends jointly come up with a policy to fight poverty? We should fight together and defeat it. Let us try it once leaving behind the world of death and killings (marna-maarna) and feel the joy of life".
He said he strength of the saviour is much more than the strength of the person who kills. "Lets unite to fight poverty".
'Take responsibility for sons: PM on rising rape cases'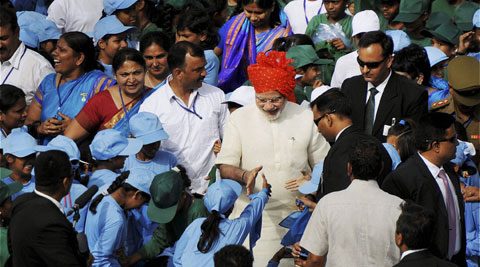 Against the backdrop of rising cases of rape, PM Narendra Modi on Friday said such incidents make "our heads hang in shame" and asked parents to take responsibility for their son's actions and put the same restrictions on them as they put on their daughters.
"Today, when we hear about incidents of rape, our heads hang in shame. People give different arguments. Some blame it on psychological problem. Every parent who has a 10 year old girl at home, ask them where are they going, when will they come back and tell them to call back home after reaching their place. Every mother and father should keep a tab on their sons and hold them accountable much like the way they put restrictions on girls, he said. Let every parent decide to put the same restrictions on their sons as they put on their daughters," he said.
He said while the law will take its course and be strict on such crime, parents should be equally responsible to check such incidents.
'Poor sex ratio is shameful'  
The Prime Minister also voiced concern over cases of female foeticide, stressing that they be stopped and warned doctors against becoming a partner in such crimes
'Govt to launch Jan Dhan scheme to promote financial inclusion'
PM announced 'Pradhan Mantri Jan Dhan Yojana' to help the poor open bank accounts which will come with the facility of a debit card and an insurance cover of Rs 1 lakh.
"We want to integrate the poorest of the poor with bank accounts with Pradhan Mantri Jan Dhan Yojana," he said in his maiden Independence Day address to the nation.
Observing that people have mobile phones but not bank accounts, Modi said, the scheme will help in bringing the benefits of formal banking system to them.
"Today there are crores of families which have mobile phones but no bank accounts. We have to change this. The economic development must benefit poor and it should start from here," he said.
(With inputs from PTI)
For all the latest India News, download Indian Express App