From selling snacks on a lambretta to mega gigs in own 'Shaher', from Re 1 deposits to Rs 1,50,000 crore assets. ANIL SASI & Subhomoy Bhattacharjee trail the missing numbers in Subrata Roy's rise and descent.
A business conglomerate with 4,799 establishments in its fold and an estimated Rs 1,50,000 crore in assets, and a market regulator dogging it since September 29, 2009.
PHOTOS: The rise and fall of Sahara chief Subrata Roy
Late March 3 evening, as 65-year-old Subrata Roy was escorted into a 5×12 cell in Ward 4 of Tihar's Jail No. 3 after the Supreme Court consigned him to judicial custody, it marked the beginning of the end of one of the longest-running battles involving a prominent corporate house and the country's capital market regulator.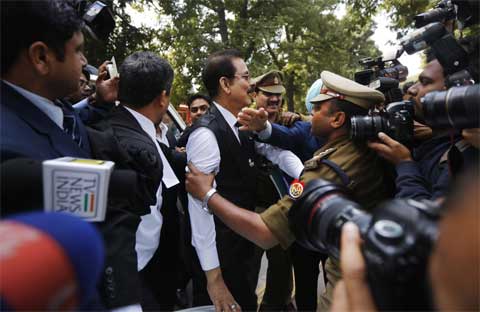 Interestingly, between the time that SEBI first initiated the inquiry four years ago and Roy's eventual arrest, there has not been a single instance of an investor in either of the two Sahara firms under watch actually filing a police complaint or going to court. Roy would want it to be seen as reflective of the group's "beautiful story" which, he told the Supreme Court, would prompt it to fall in "love" with Sahara. While the plea evidently did not cut much ice with the judges, there is little doubt that Roy himself looks back with great affection on the empire that he built from scratch, with himself as the "guardian of the world's largest family".
Nothing epitomises Roy's preoccupation with his humble past more than the Lambretta scooter that stands enclosed in a cubicle in Lucknow's Sahara Shaher — a throwback to how it all started over three-and-a-decades ago in Gorakhpur, Uttar Pradesh's hardscrabble east.
The family is said to have its roots in Araria, Bihar, but was settled in Gorakhpur. Roy stayed with his parents and siblings in a rented house in Turkmanpur area. The eldest son, he did a diploma course before being forced to take up work due to the death of his father Sudhir Chandra, who worked in a sugar mill. Roy tried his hand first at making salted snacks, apparently supplying them on the Lambretta under a venture called 'Jaya Products'. He then …continued »