Written by
Arun Sharma
| Jammu |
Published: September 3, 2014 7:41:25 pm
At least six people including four children and a woman were killed as rains and flash floods caused havoc throwing normal life out of gear in different parts of Jammu Kashmir since last night.
Pointing out that the border Poonch district was cut off from rest of the state following closure of its road link to Valley and the adjoining Rajouri district due to landslides and flash floods at various places, sources said that five members of a nomadic Gujjar family including four children and a woman died after their dhoks (temporary shelters for summer months in highland pastures) collapsed following landslides at Chasana in Reasi district this afternoon. The deceased children were in the age group of 2-7 years. Police parties from Reasi were rushed to the spot after news about the tragedy came in.
Meanwhile, one person washed away and nearly 40 residential, official and commercial structures damaged due to flash floods in Betar nullah and Suran river following heavy rains on the upper reaches border Poonch district on Wednesday afternoon. The power supply and telecommunication services across the district were disrupted, while vehicular was suspended following extensive damage to roads and bridges at various places.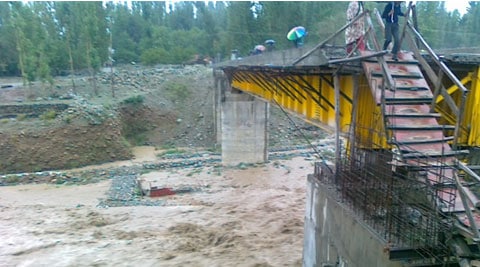 The Sher-i-Kashmir bridge connecting Poonch town with Surankote was closed for vehicular traffic following extensive damage to protection bunds on both banks of Betar nullah, sources said. The Jammu Kashmir Bank building and some residential houses near the bridge too sustained extensive damage due to flash floods.
With rivers and nullahs in spate across the district,  an alert was sounded and people living in low lying areas on the river side evacuated to safer places. In Surankote  tehsil, the damage was extensive, with  road connectivity to Buffliaz disrupted at many places following extensive damage to small bridges over culverts due to floods in Suran river. The flood waters had entered many a buildings on the river side in Surankote town, sources said.
The Mendhar town too was cut off from both Poonch town and Bhimber Gali as bridges on both sides of the town were inundated under flood waters in the local river. Pointing out  that the flash flood s came in the afternoon, sources said that a large number of people including school children were stranded in the outskirts on both sides of the town.
The Mughal road connecting Poonch with Valley was also closed following landslides, while the border districts road link with Rajouri district was snapped following extensive damage to roads due to flash floods at various places.
Meanwhile, the Jammu Srinagar national highway, which had got closed due to landslides at various places since last night, was reopened for vehicular traffic on Wednesday afternoon.
For all the latest India News, download Indian Express App