A year after the Muzaffarnagar-Shamli riots, with political visits dwindling after the Lok Sabha elections and no success in efforts to rehabilitate riot victims back to their home villages, there has been a slow and steady change in the maps of the two districts. Muslim riot victims have purchased land around villages with a significant Muslim population, finding security in their numbers.
These areas are being christened by their new inhabitants, with most still not recognised by the administration, and no water, electricity or basic sanitation measures yet — identified officially only by the neighbouring villages.
About five kilometres from what used to be the Idgah relief camp of Kandhla after the riots, three of the six women who filed FIRs alleging gangrape are among the 100-odd families who have bought plots of land, 100-200 gaj in size, from the Rs 5 lakh compensation they received from the state government. This includes 30 families from Fugana village, where the highest number of riot-related FIRs were filed, and others from Lakh, Lisadh, Bawdi and Hasanpur. The land was purchased from two Pathan families, traditional land owners in the village.
A 28-year-old rape complainant, who was pregnant when she was allegedly raped, nurses her newborn under the open sky, on a plot filled with bricks. Her family invested all its money on the land, and till her labourer husband saves enough, they cannot start building their home. "This is about 30 kilometres from our village where the accused are still at large. We were afraid all the time at the relief camps… we were often threatened by their relatives. Everyone at the relief camp knew about my case, there were so many questions… how long can you live like that under a shelter… we had to move on and get a place to make our home again," she says.
But moving on is not easy. The 100 houses have just one hand pump, installed only last week. So there are fights over potable water, and already many children are falling ill with diarrhoea and fever. There is no electricity, drainage or toilets. "There are no fields here that we can use to relieve ourselves. We have to walk at least three kilometres through the city to reach the fields… toilets are a big problem," says another rape complainant.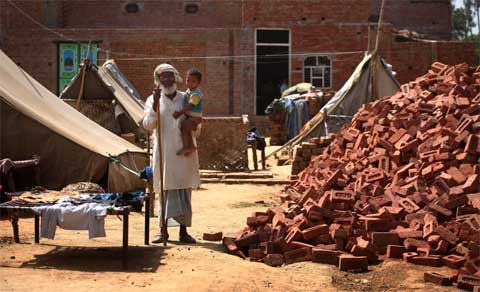 …continued »