Written by
Utkarsh Anand
| New Delhi |
Updated: May 8, 2014 5:44:42 pm
The Supreme Court on Wenesday prohibited use of bulls in south India's 'Jallikattu' festivals, holding this practice to be an offence under the law.
A bench led by Justice K S Radhakrishnan held that use of bulls in such events severely harmed the animals and constituted an offence under the Prevention of Cruelty to the Animals Act.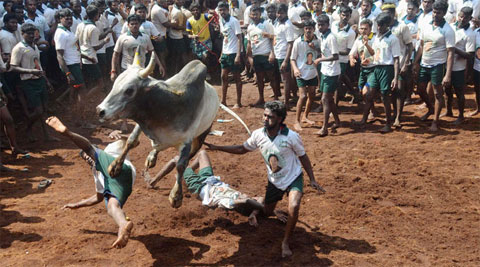 The bench struck down a notification by the Tamil Nadu government in this regard and said the central law that prohibited use of the animals shall prevail.
It also nixed a proposal by the central government to allow use of bulls by amending the list of animals prohibited from being trained for performances.
The Centre's affidavit in the SC had stated: "In order to strike a balance and to safeguard the interest of all stakeholders including the animals, while keeping in mind the historic, cultural and religious significance of the event and with a view to ensure that no unnecessary pain or suffering is caused to the animals, participants and spectators, the government of India proposes to exempt 'bulls' participating in 'Jallikattu' in the state of Tamil Nadu from the purview of the 2011 notification." This stand however failed to find favour with the court.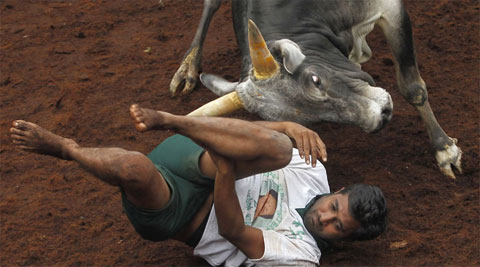 The animal welfare activists are up in arms against Jallikattu for the past several years. They want the age-old sport to be banned for what they call it as massive cruelties to animals.
After a single judge of the Madras High Court had banned the sport few years ago, the issue was taken to the Supreme Court, where a batch of petitions are now pending for final disposal.
The SC had also once noted that Jallikattu was nothing but a sport inflicting massive cruelty to animals but allowed it under stringent conditions on vehement request by the Tamil Nadu government.
For all the latest India News, download Indian Express App