Updated: May 23, 2014 2:13:12 pm
Its quaint canals, historical windmills and manicured tulip gardens set a postcard-worthy backdrop for romancing couples in popular Hindi films over the ages, like Silsila, Prem Rog and Hum Tum. And recently, you followed the indisputably lovable Rani to Amsterdam on her flight to self-discovery in Queen.
The city gets its name from Aeme Stelle Redamme (dam in a watery area). The history is a bit foggy, but most guide books insist that the foundation for Amsterdam, the capital of The Netherlands, and its grand canals was laid out in the early 13th century when two fishermen and their dog got lost in the Amstel river. The two men forged the structure for a dam and a dyke, which is now the busy centre of the city called the Dam Square.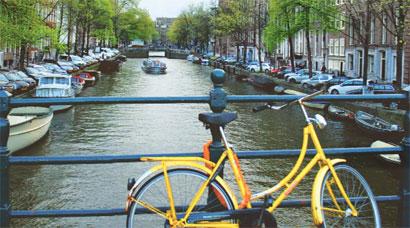 Five centuries later, during the Dutch Golden Age in the 1600s, canals were dug and houses were laid out in measured belts forming a web-like pattern. The four posh canals, Herengracht, Prinsengracht, Keizersgracht and Singel, together form the Canal Ring or the canal district of Amsterdam, and the Amstel river runs south to north in this belt.
In 2010, the Unesco listed the Canal Ring as a World Heritage Site. Originally built for rich merchants, the area now houses Michelin-star restaurants, quaint curio shops, bars and bistros.
The De Negen Straatjes (or The Nine Streets), combining the neighbourhoods of these four canals, is where Amsterdam goes shopping — at vintage stores, designer boutiques and quirky art studios. At the curve of Herengracht are mansions with glamourous facades, stuccoed ceilings and courtyards. Home to wealthy merchants and bankers, it's known as The Golden Bend for its prosperous estate and coach houses.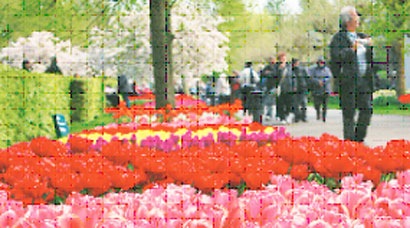 Some of these houses are open to the public. Among them, you should not miss Herengracht 475 for its classy façade and Museum Willet-Holthuysen, where the mayor once lived and which has an impressive collection of artwork. Another canal side house open for visits is Museum Ons' Lieve Heer op Solder (Our Lord in the Attic) that has a church on its top floor. At Kiezergracht, you can visit Museum Van Loon, the former house of Willem van Loon, co-founder of the Dutch East India Company. The rooms are beautiful art exhibits in themselves and showcase classy furniture and charming pieces of silver and porcelain procured from around the world.
After almost a decade-long renovation, the Rijksmuseum and Stedelijk museums opened their grand corridors for the public last year, while the Van Gogh museum is worthy of a painstakingly long queue.
The city is intertwined with canals and bridges that co-exist with its roads, cycling paths, walking tracks and tram routes. As a mother pushing a buggy, my biggest nightmare when I stepped outdoors, initially, was that I might run into a cycle or plop into a canal. For a first timer, the narrow busy lanes of this city can be quite a challenge.
The canals, which are lined with glass-covered cruise boats that are safe for small children, show how Amsterdam should be visited — through the waterways. Amsterdam celebrated 400 years of its canals last year. Once an important route for beer and herring trade, the canals and their beautiful arched bridges now draw tourists and hold the spotlight during cultural events.
During the annual canal festival, week-long music concerts are organised on its banks and on cruise boats. The Amsterdam Gay Pride or the canal parade is also a big attraction. There are theme cruises as well that run in the evening, taking care of your dinner or setting you up for a quiet sail.
A hidden asset of this city are its beautiful parks. The popular ones, Vondel Park and the Amsterdam Bos (Amsterdam woods), are plush on scenic views, nature trails and wading pools for children (open only in the summers). It is a convenient stop-over when toddlers need a break from the sightseeing or when you need some quiet time.
Amsterdam dwells in its historical gabled buildings and dines at its beautiful canal side cafes. Unlike their French counterparts, many restaurants in Amsterdam do not restrict their young diners to their high chairs, but offer a play corner, put out a trampoline or give cooking classes to them, while the parents enjoy their meal. At Kinderkook Café, children can put together their meals, and Vandaag houses an indoor playground. Here, children can also roll and cut their cookie dough, which is then baked and packed for you to take it with you.
My first year in this city was a string of trial and errors. While I still can't say that I am totally confident, but I can certainly not forget my shock after walking into a coffee shop and realising that the butter they serve with bread is seasoned with marijuana, and their space cakes — those innocent looking slices of brownie sitting in the glass jar at the counter — can put you in a trance within an hour of consumption.
Hindi cinema, too, had picture perfected Amsterdam for us until Queen's dance number, O Gujariya plunged us into the dingy alleys of De Wallen, Amsterdam's famous (and legal) red light district — a part that the city has been trying hard to keep in check. In the last decade, its coffee shops and red light district have managed to raise many eyebrows as they have become increasingly popular with adventurous backpackers and attract thousands for stag parties. But the city has made an attempt to shift the limelight to its bustling art scene and contemporary dining. Taking one step at a time, Amsterdam is getting postcard-ready once again.
Meher Fatma is a writer based in Amsterdam
For all the latest India News, download Indian Express App