Parties have similar solutions to gender-based aggression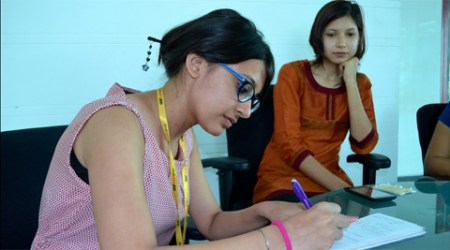 Mehta is a first time voter in the Lok Sabha elections in Mumbai.
Rosalie Murphy
Women's empowerment rocketed to the top of India's national agenda in December 2012 with the globally reported rape of a medical student on a New Delhi bus. Unprecedented coverage of sexual violence sparked agitation in India and worldwide for more efficient police investigations, stronger penalties for assailants and improved security for women. This year, for the first time, every major party included women's security in its platform.
But parties offer very similar solutions to gender-based aggression. They also posit plans to increase women's access to education and job training – currently just 19 percent of the formal workforce and 43 percent of classrooms are female. Women even hold leadership positions in every major party. So if female Indians are to vote based on "women's issues," stances will have to be more specific.
"There is no doubt that there is a rising incidence of violence against women in this country," said Meera Sanyal, the Aam Aadmi Party Lok Sabha candidate for Mumbai South. "All of India, across all political parties, realize that this is not a good thing. I can't imagine there is any political party that says violence against women is a good thing."
The AAP, formed in Delhi in 2011, won headlines for picketing the city's police in 2013. Unique in their manifesto is a call to disqualify from campaigns the Members of Legislative Assemblies (MLAs) and Members of Parliament (MPs) who have been charged with violence against women. A 2012 study found this rule would indict 44 current MLAs and MPs, as well as 327 candidates who contested in 2009.
Sanyal said, "Twenty-nine percent of MPs are heirs. Thirty percent have criminal charges against them. There is no one else to vote for [other than AAP]."
But, of course, there are other parties to vote for. The ruling Congress Party and its lead opponent, the Bharatiya Janata Party, hope to empower women by increasing their access to political power. Congress claims credit for a 2009 act requiring local panchayats to reserve 33 percent of their seats for women. In 2011 an amendment increased reservations to 50 percent. And Congress promises that, if elected, it will guarantee passage of the national Women's Reservation Bill.
The Rajya Sabha approved the bill in 2010, but it has been stalled in Lok Sabha for four years. Just four of 21 candidates in Mumbai are women — 19 percent — yet it's the highest proportion among Indian states.
BJP staff member Kushal Mehra said, if women want to vote for a party that gives women power, they should look to his.
"BJP is the only party in India that has actually given 30 percent representation to female representatives in its parliamentary body, even to the board level," Mehra said.
Only one of the party's 12 board members is female, but women fill …continued »