Phase to phase, region to region, BJP's 59-day final push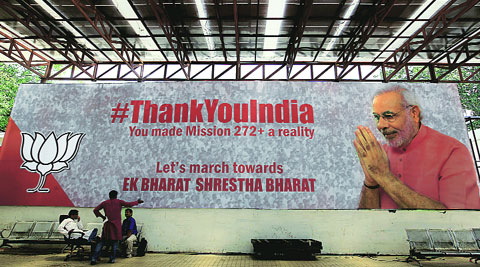 Blitz continues after the verdict: a 'thank you' hoarding at BJP headquarters. ( Source: Express photo by Ravi Kanojia )
It was in the last 59 days of campaigning that the Narendra Modi-centric media pitch of the BJP was given the final push. Madison Media, which got the contract in February, divided the campaign among print, radio, TV, digital and outdoor spots, started the pitch on March 13 on TV and radio, and kept changing the central message depending on the phase of polls to put together an exercise now acknowledged as unparalleled in the history of branding.
The overall expenditure was Rs 500 crore, say sources familiar with the way the campaign was managed. This was apportioned among media targets with the goal of maximum reach multiplied by frequency, they say.
Apart from Madison Media, senior members of Ogilvy and McCann were involved in the exercise.
Madison bought 70-80,000 spots on television and around 80,000 spots on radio. The Indian Express, which was among the print media entities where the BJP advertised, could not ascertain the exact space bought in print by the BJP.
While Madison Media earmarked Rs 125 crore each for print and television, including national and regional media, the budget for radio was Rs 40 crore and digital media Rs 60 crore. The outdoor campaign, managed by Madison along with two other agencies, got a budget of Rs 150 crore.
The first task was identifying prime-time slots on general entertainment and news channels, for instance Comedy Nights with Kapil on Colors, to launch the campaign. After TV and radio, the campaign was launched in digital media and then print.
The print campaign was planned to coincide with polling dates. Since media inventories were bought in bulk, the planners could retain, as a senior strategist put it, "every useful inch of the newspaper on the day of polling". For instance, the day Delhi voted, nine out of 10 top English dailies carried a BJP advertisement with a large image of Modi.
The message too was changed based on the regions voting. At the start of the election exercise, before April 7, the campaign invoked the "anger" against the incumbent Congress government: "Humari betiyon ko suraksha naa dene waalon, janta maaf nahin karegi"; "Mehngai ko lagatar badhaane waalon, janta maaf nahin karegi".
This was on radio; sources said the BJP bought 40,000 slots.
The print media campaign was mainly used to launch Modi and his "vision". From the third leg of the campaign, ads pushed the idea that Modi was coming to power. Says a strategist, "We had to give a sense of victory in the fourth and fifth phases as these covered 200-odd seats in the heartland… People like to vote for the winning side.." Television — especially news channels — was used for this.
"We did nationwide and region-specific surveys to identify issues and decide …continued »