Paan Singh Tomar's story is now the stuff of films. But the land feud that turned the  national champion into a dacoit revisited his family on July 13, leaving two dead and  raising barely a ripple in the badlands of Chambal. DIPANKAR GHOSE finds a land  and administration that have not moved in time.
The men sit quietly, a white tarpaulin sheet their only comfort from the hard rock underneath. Their eyes are wary, and all newcomers are assessed in urgent whispers. The women sit separately in a corner, their faces covered. The only sound in the air is of their wailing. Two people were shot dead in Bhidausa village this week, while two others lie fighting for life in a Gwalior hospital, 60 km away. There are tears and there is grief. But there is no shock or surprise. In the ravines of Chambal, tragedy is no stranger. Legends have been born from it.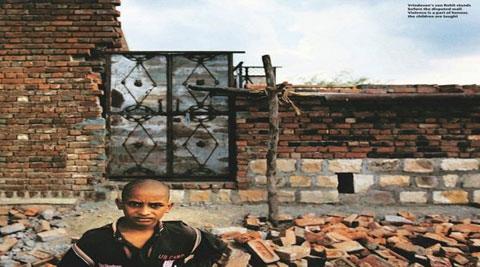 The two who died on the morning of July 14 are part of one such legend — of Paan Singh Tomar, well known since an award-winning Bollywood film put his story on celluloid. Involved in a land dispute with his uncle Babu Singh, the seven-time national steeplechase champion and retired armyman had killed Singh and his family and fled into the Chambal, to re-emerge as 'Daaku Dasyuraj Paan Singh Chambal ka Sher'. Four decades later, revenge has been taken.
On July 14, six men belonging to Babu Singh's family allegedly came to the house of Paan Singh's grandnephew Vrindavan Tomar at 8 am as he and cousin Rahul were working on a wall outside their home, and shot them dead. When two family members rushed out from the house to help, they too were shot. The assailants then escaped into the ravines, around 500 metres away, and have been untraceable since then.
The night before the attack, it appears, Babu Singh's side of the family —all 25 members — slipped out of the village. Their three homes are now locked and empty, but for two forlorn buffaloes.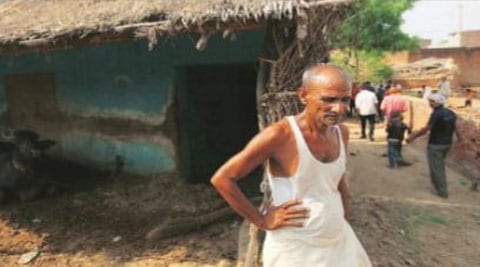 Gulab Singh Tomar, Vrindavan's elder brother, says the wall Vrindavan and Rahul had been working on was at the centre of the row. "They own the fields next to it. We wanted to build a gate next to the wall, but they objected. Hum maan gaye (We agreed). But on July 12, they objected to us raising the height of the wall too as some bricks fell into their fields. There was an argument, but it got sorted out. Lekin na jaane kya hua, subah aa kar hamla bol diya (But don't know what happened, they just attacked in the morning)," he says.
While Vrindavan was 36, Rahul was 19. They both worked on their farms, located next to each other's. Vrindavan leaves behind a wife and three young children, none of whom goes to school. Rahul was soon to be married.
Of the accused in the case, Mukesh and Shivraj are grandchildren of Babu Singh. Munna, Ajay Rampal and Ram Prasad Singh Tomar are descendants of Babu Singh's siblings.
Gulab Singh hasn't gone to either the police or judiciary for help. "What will the police do? The other side have guns and we don't. All I want from the shaasan (regime) is a licensed rifle. Otherwise my family and me will continue to sleep on the terrace at night, afraid they will return to wipe us out. The police can't protect my family, only a gun can," he says.
The land feud has festered since Paan Singh's time. It all began when Paan Singh was still with the Royal Bengal Engineers, posted at Roorkee. He received news that his elder brother, Matadeen, had sold off their two and a quarter bighas of land (located around 500 metres from the plot under dispute now) to Babu Singh and his brothers Hawaldar and Jandel.
"Matadeen was a wastrel. When Paan Singh came home on leave, he demanded his share, and believed the administration would help him. He even paid Babu Singh Rs 3,000, but the panchayat didn't support him. Then Babu Singh attacked his mother, and Paan Singh lost it. He hunted Babu Singh down and shot him dead, and then went after his brothers. Since then, the family has been divided. There is Paan Singh's side that became famous and powerful, and Babu Singh's family that became painted as the villains," says Antar Singh Tomar, another of Paan Singh's grandnephews.
With the feud showing no signs of a resolution, Paan Singh's son Souram Singh moved out to Bhabani in Jhansi.
Bhidausa is part of Morena district, which, along with Bhind district, falls in the Chambal. By day, the only sight for miles are the forbidding ravines, locally called biharh. Its crevasses hide flower patches and rivulets too, but few venture in. The name Morena itself comes from the peacocks found everywhere here.
By night, the land falls absolutely silent, except for the faint sound of water. While Chambal flows 10 km away, one of its many tributaries, Anda, lies right next to Bhidausa. Vrindavan and Rahul were cremated on its banks.
Land is the only currency in this harsh habitat. "Ninety per cent of all fights are about land. The only source of income is agriculture. And because there are no other jobs, other than getting enlisted in the Army or becoming a security guard, land has become increasingly scarce and increasingly contentious," says O P Chandelia, station officer of the Sinhonia police station, located in the middle of Chambal and about 8 km from Bhidausa.
Every disagreement is cause enough to draw a weapon. As a senior police officer puts it, "Entire undivided Andhra Pradesh had around 20,000 licensed weapons. Bhind and Morena alone, where most of the Chambal ravines are located, have close to 60,000 weapons. This is after Morena stopped giving licences a year and a half ago. And these numbers are the tip of the iceberg. There are at least four times this number of weapons and very few means to rein them in."
The Sinhonia station officer, for instance, who looks after the most violence-prone villages in Morena, including Bhidausa, has with him two assistant sub-inspectors, one S-I and a havaldar. They have two functional rifles, and one rickety jeep. For 52 villages.
"Nine times out of 10 when there is a murder, people don't even approach the police. Sometimes it is a relief, because how much can we do with how little we have?" says Manver Singh, an assistant S-I and himself from Bhidausa.
His responsibility for the day is to take five people accused of looting to the Morena court, around 70 km away. He will go alone, without a weapon, on a public bus. "You have to request the accused not to run," he laughs.
With the density of population in Chambal lower than in the plains, it has never ranked high on the priority of politicians. Bhidausa, for instance, has just one dirt road. "When elections came, all we asked for was one good road and electricity. The poles came up, but power never did. When it rains, our village gets cut off. What will we go to the police or court for? If something happens, they can't get here," says Mahender Singh Tomar, a villager.
After one downpour, last Wednesday, the road to Bhidausa was completely unmotorable. "Don't ask me, 'What happens if something happens?'. It happens if it happens," says SHO Chandelia.
There are 1,936 primary schools in Morena, a district with a population touching 20 lakh. For higher secondary education, there are only 112 schools. Once they have cleared Class X, most children head for the Army. In one school in Morena, the only teacher brings his goats along. If the animals go astray, class is suspended.
It's been only three days since his brother Vrindavan was killed, but Gulab Singh breaks into a smile when asked about his grand uncle. "Whenever Paan Singh came to the village, he said the same thing, 'Khaana deyi de (Give me food)'," the 50-year-old recalls.
Raising his hand to about a foot above him, Gulab Singh adds: "He was this high and could run for miles. Koi bakwaas nahi, aur bandook chale to sab chup (He took no nonsense, and his gun was enough to make everyone fall in line)."
As his son comes running to him, Gulab Singh smiles. "They should know where they come from, and the legacy they must protect."
The organised gangs of old may be history, but it is the idea of baaghis being role models that is at the root of Chambal's lawlessness, say the police. At night, at most homes, stories of Chambal's baaghis (rebels) are retold to children, about how they "lived without fear".
"Despite the number of people they have killed or abducted, they are folk heroes. Children grow up wanting to be like them. Violence is a part of honour," says a senior police officer.
In Morena district alone, there are close to 60 murders a year as well as the same number of kidnappings, and this is only the number that is documented. The police frustration shows.
"I don't care where you are, I want you to tell me where the gang is. Tumhe to pata hota hai. Unko pakdenge to tumhaare liye khaali ho jayega maidaan (You know everything. If we catch them, the field will be clear for you)," a police officer tells someone on his cellphone.
Often the police use the caste divide to break down defences. The two predominant castes are the Thakurs, like the Tomars, and the Gujjars, like the famous dacoit Man Singh.
The July 13 deaths have again rekindled some interest in Bhidausa. Chandelia has been fielding phone calls seeking an update on the six accused. Posted here for six months now, he is used to the questions by now — 'What prevents the six from becoming baaghis themselves?'. 'Has anything about Chambal changed?'. 'Is there nothing you can do?'.
The SHO stays quiet. Soon, he knows, it will be just another day in Chambal.
For all the latest India News, download Indian Express App