Once resistant to Maoist violence, Dumka now bears the brunt of Naxals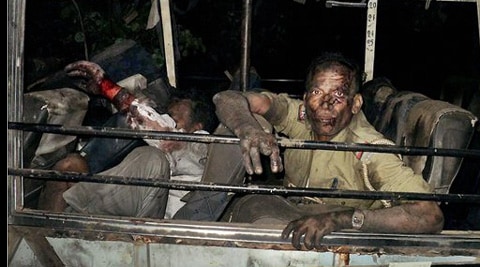 Injured Police and polling officials after suspected Maoists attack at Sikaripara in Dumka of Jharkhand on Thursday. (PTI)
Two staff nurses tried to be everywhere at once – lost count of saline drips running out and had to pacify angry crowds. Two other colleagues on duty had to be in the labour room and operation theatre, where the only duty doctor of the night was stationed.
This was Dumka, the sub-capital of Jharkhand, the assembly constituency of chief minister Hemant Soren, whose people sent his father – a three-time-chief minister – to the Lok Sabha seven times. And there were two nurses with the bare essentials to patch up the 10 injured and send them on their way to hospitals at least five to eight hours away, on a day violence was anticipated. "Today was better; we have four nurses instead of three," said one of the nurses.
When the CPI-Maoist struck at the heart of Jharkhand Mukti Morcha on polling day, attacking two vehicles – killing five policemen and three individuals returning after polling near Sikaripara's Sarsajor village – more politicians turned up at the Sadar Hospital than there were staff nurses tending to the 10 injured. Chief Minister Hemant Soren, former CM Babulal Marandi – also a candidate from Dumka and the BJP's candidate Sunil Soren went to offer commiserations.
They all arrived to boos from an angry crowd and left, but it was an absence that was noticed. "Shibu Soren kaha hai?" asked the crowd that rushed into the hospital at 11.55 PM. They were angry that the saline drip for the driver of the Tata Magic, one of the two vehicles attacked, may not last his five-hour-trip to Dhanbad.
This was the second major attack in the Santhal Pargana – previously considered resistant to the growth of Maoists – in under a year. Dumka, Pakur and Deoghar were added to the MHA's scheme for LWE areas only in April 2012; Sahibganj, Godda and Jamtara, the three other districts that comprise the six-district Santhal Pargana, are the only districts not considered LWE-affected. On July 2 last year, when Pakur's Superintendent of Police Amarjit Balihar was killed en route Pakur in Dumka's Kathikund block – adjacent Sikaripara – the police largely believed it was a one-off incident of a police officer paying the price for letting down his guard: the state police have always thought that the Maoists' conception of the Santhal Pargana as an "Expansion Zone" was a bit far-fetched.
But, as an exasperated villager said outside the Sadar police station on Thursday night, "Dumka is not safe anymore. They seem to be everywhere." Reporters covering LWE incidents frequently hear an anecdote about how the police had surrounded a top Maoist leader and how they had to let him go because someone in the JMM made a call. The story cannot be substantiated – …continued »