Maoists target teachers, ambulance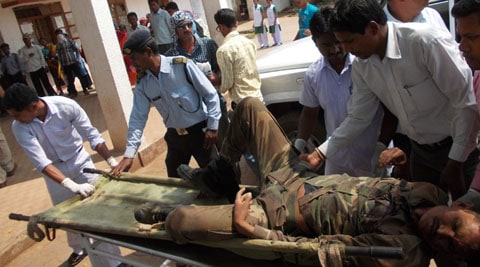 At least 14 persons including civilians, CRPF men and polling officials have died in multiple attacks by Maoists.
Seemingly discarding the constitution of the CPI (Maoist) and a fundamental tenet of their guerrilla war, Naxals in Chhattisgarh on Saturday targeted teachers, men on medical duty and civilians along with CRPF personnel, killing 14 people in two separate attacks at places over 200 km apart.
Five 'shiksha karmis' — the name used for teachers in Bastar — on election duty were killed in one of the attacks.
In the other, Naxals blew up a Sanjivani 108 ambulance, one of a fleet of specially equipped vehicles that have proved effective in reaching medical aid to the poor in remote areas.
Maoists have fired at Sanjivani 108 ambulances in isolated incidents earlier, but have quickly apologised for the "mistake". They have repeatedly claimed that it was against their constitution to attack medical professionals and teachers.
Saturday's attacks — both of which were carried out using improvised explosive devices (IEDs) without a shot being fired — mark the biggest ever loss of teachers in an ambush by Maoists, and the first instance of an IED blowing an ambulance to smithereens. Over 10 people were injured in the attacks, and were being treated at a hospital in Raipur.
The first attack took place near Ketulnar in Bijapur district around 11 am. Police said the IED ripped apart a mini bus in which poll officials were returning from duty in Kutru to the district headquarters, carrying polling material. A forest department employee travelling with the five shiksha karmis, and a helper of the mini bus too were killed.
Four of those killed were identified as Sonla Vijay, Yalam Ramchandram, Kursam Shankar and Samayya Jhadi. In a statement, Chhattisgarh Police said, "Nearly 130 polling personnel were moving on foot from Kutru to Godma, accompanied by security personnel. Later, the polling officials boarded four mini buses. While three of the buses passed safely, the last one was caught in an IED."
As the administration grappled with the enormity of the attack, within an hour came news of an incident in Darbha, the second in that region in the space of a month.
Five CRPF personnel of the 80th Battalion taking a lift in the ambulance were killed in the attack, along with the driver of the vehicle and a technician. The CRPF men were part of a road opening party coming from Darbha after ensuring safe passage for election personnel.
Bastar SP Ajay Yadav said they had taken a lift in the ambulance because "they were tired". A few minutes later, just about a kilometre ahead, the vehicle hit the IED. The explosion left a crater several metres across on national highway 30. At least 30 kg of explosives were used, police said.
The dead CRPF men have been identified as A K Rai, Naresh Kumar, Simaram, Umesh Kumar and …continued »