Lone vote in Hoshangabad EVM to be counted, even if it blows voter's cover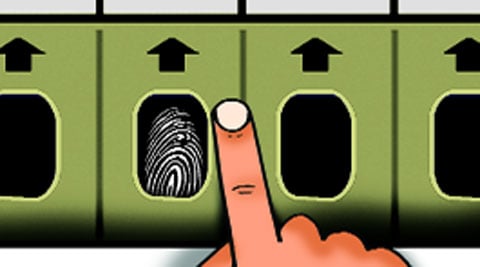 EVM at the Mokalvada polling station in Sohagpur area malfunctioned just minutes before voting was to conclude at 6 pm.
Won't counting a single vote cast in an Electronic Voting Machine (EVM) compromise the secrecy of ballot of that voter? Having considered the question for a few days, the Election Commission (EC) has ruled that every vote, even if it is a lone vote on an EVM, has to be counted, even if it comprises the secrecy of ballot.
The issue was raised by Hoshangabad District Collector Rahul Jain, who had sought a clarification from the EC. Jain informed the EC that on April 10, when the Hoshangabad Lok Sabha constituency voted, an EVM at the Mokalvada polling station in Sohagpur area malfunctioned just minutes before voting was to conclude at 6 pm. This machine had polled 292 votes before it malfunctioned.
"After 4:30 pm, there was no voter for almost an hour at that booth. When a voter finally arrived at 5:50, the EVM malfunctioned and had to be replaced… This voter then cast the vote on the newly-installed EVM. Since there were no more voters, this particular voter ended up being the only voter to have voted on that EVM," Jain told The Indian Express. "We thought that counting this lone vote may end up compromising the secrecy of ballot for this voter and asked the EC for a clarification," he said.
Jain said the EC conveyed that the vote must be counted. "The rationale we have been given is that there have been polling booths in the country where only a single voter has voted on an EVM and the vote has been counted," he said.
When contacted, Deputy Election Commissioner Sudhir Tripathi, who is in charge of Madhya Pradesh, said, "That vote will have to be counted since counting of every vote that has been cast is mandatory. This case is at par with the situation in Gujarat where a single voter has been voting at a polling booth in Gir forest."
Tripathi admitted that "the secrecy of ballot could get violated to some extent" but "the counting has to be done". "In case a particular polling agent of a political party was in that booth at the time when this voter voted and that person happens to be the counting agent when the vote is counted, the secrecy will get violated. But that is just a possibility," he said.
Tripathi said one way to deal with this situation in the future could be the introduction of a "totaliser" machine that can count the votes polled on several EVMs simultaneously. "A totaliser instrument prototype is already ready and the EC has written to the government to explore using this on a pilot basis. But introducing this would require an amendment to the Representation of the People Act," he said.
Meanwhile, Jain maintained that …continued »