In November, Ohey Tayem and 11 others trekked 18 days in the jungle carrying only rice, scouring for vegetables and dodging wild elephants, as they looked for hornbills. Had he belonged to an earlier generation of Arunachal Pradesh's Nyishi tribesmen, the 32-year-old would most likely have hunted the bird, eaten its meat and take its magnificent yellow beak and casque to adorn the headgear worn with pride by the men of his tribe.
PHOTOS: Conservation efforts to protect Falcons take flight in Northeast
But Tayem does not hunt hornbills. He protects them. The soft-spoken man is a part of an award-winning community initiative that seeks to arrest the slide in the hornbill population caused by  rampant tree-felling and hunting. Two years after it started, hornbills now nest not just within the Pakke Tiger Reserve but outside the protected area as well. Tayem and other hornbill protectors start their day at 6 am, wandering into woody patches surrounding the Nyishi villages at Seijosa, east Kameng district, and nearby, looking for hornbill nests built in hollows atop tall trees.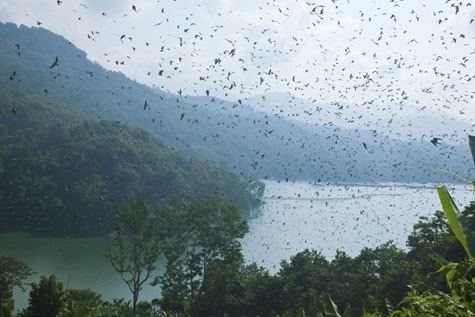 If Tayem finds one, he nails a board on the tree to discourage tree-felling, hunting or other human activity within a 100-metre radius. "There are now 39 protected nests in this administrative circle alone, outside the reserve," says divisional forest officer and Pakke Tiger Reserve director Tana Tapi, a Nyishi who made this unique conservation effort possible by collaborating with NGOs such as the Wildlife Trust of India and Nature Conservation Foundation, Mysore.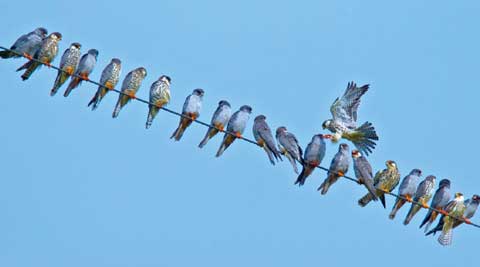 Yet, if it were not for the support of the Ghora Aabhe Society, a committee of 12 village chiefs, the habitats of the four species of hornbills found in the state — the great Indian hornbill (a near-threatened species), the rofous-necked hornbill (vulnerable), the wreathed hornbill and the Oriental pied hornbill — would have still been under siege. The chiefs not only supported the conservation plan but also turned it into an economically feasible initiative through the Pakke Jungle Camp, a small eco-tourism resort that has attracted close to 200 tourists since its inception in 2011.
But what of the Nyishi headgear, the podum, the main reason for the hornbills being hunted?
In the village of Jully near state capital Itanagar, craftsman Kara Rakap completes a bopiya (a headgear with fake hornbill parts) by inserting an artificial feather. The hornbill beak and casque, the headgear's main component, is also man-made, fashioned from crafted wood, painted yellow. Fibre-glass hornbill beaks are available for a slightly higher price — Rs 5,000, while the wooden one costs Rs 2,000. Rakap does no other work, his job fetching him enough to have built his wooden house upon a foundation of cement, his wares taking him to craft exhibitions far afield in Kerala and Delhi.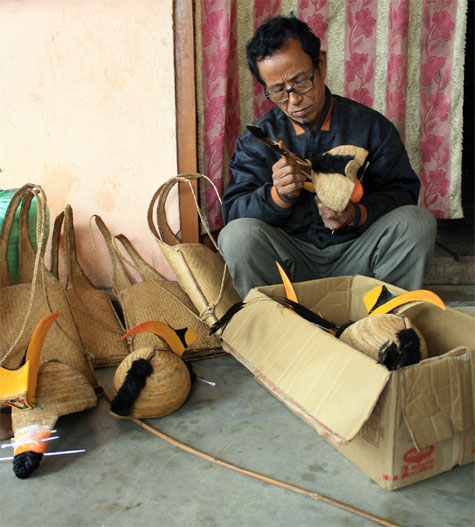 In a way, the Nyishis' turnaround from a tribe of hunters to conservationists is similar to a phenomenon a thousand kilometres away in Nagaland, where the world's eyes and ears were on the Doyang Reservoir near Wokha. In 2012, conservationists discovered the slaughter of an estimated one lakh or more Amur falcons as they stopped over during their annual migration route from the frozen reaches of eastern Asia to the warmth of southern Africa. Roosting in large numbers in the trees, they were easy prey for the villagers.
The following year, remarkably, the hunters turned saviours. Backed by the Nagaland government and Chief Minister Neiphiu Rio, conservationists convinced the villagers and drafted them into the mission to ensure a safe passage to the falcons. Not one bird was reported killed last year. One of conservation's best successes in recent years, it prompted formal congratulations from the United Nations, and was cemented by an official announcement in January that three radio-tagged falcons had flown across south Asia, swept over the Indian Ocean and several African countries to land safely in South Africa.
The Northeast is inhabited by various tribes with long traditions of hunting; some hunt wild animals for food, some hunt them for honour and because custom dictates they do. Yet the region is also replete with stories of tribes that have awoken to conservation. Sometimes, the efforts have been spurred by outsiders; in many cases they are also home-grown, some having taken root generations ago and based on the wisdom that nature nurtures, and extinction cannot be reversed.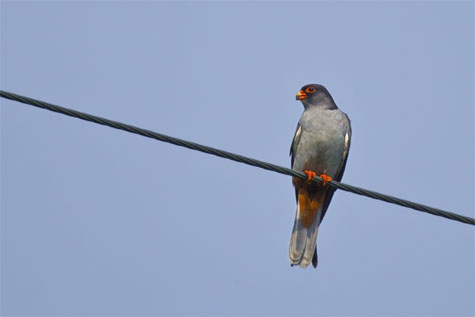 In the region's southern tip, Mizoram, dentist VL Bela, 79, who lives in Aizawl, recollects how, a decade ago, he drove to the village of Neihdawn in Champhai district, close to the Indo-Myanmar border, and met village heads to propose an idea. "We were losing our natural inheritance — wild fruits, berries, medicinal plants, animals and birds — because forests were being cut down and burned to make way for farms (Mizos practise jhum cultivation like many other tribes). I was given some money by the art and culture department to preserve Mizo inheritance and I thought, 'The woods are also our inheritance'," Bela says.
The result was the first "zotheihuan" (literally "garden of Mizo fruits") project, a 20-sq km area within Neihdawn village that was left untouched, allowing nature to take control and grow. Ever since, Bela and like-minded people campaigned through villages and towns across the state under the banner of Mizoram Environment and Forest Consultative Forum, urging them to create similar forest enclaves. At the last count, leaders of 44 villages had used their official seals to designate 1,815 sq km of area in the state as Zotheihuan. Some projects covered over 100 sq km, one an astounding 250 sq km. In many instances, village heads cancelled land leases and, in others, villagers voluntarily surrendered theirs.
The zotheihuan have led to a resurgence of not just wild fruits and trees across the state, but wild animal populations as well. Hoolock gibbons, once hunted because their bones were supposed to cure nerve and joint pains, are now spotted in  several villages. The theihmu, a wild berry, and the grape-like puarpeng, which had almost disappeared, now flourish in these wild spots. Most importantly, the zotheihuan are repositories of water in this hill state. Lalduhawma, ex-officio secretary of the zotheihuan project in Ailawng village, recalls how in April last year, 30-40 men scrambled up Reiek peak to put out a fire that had broken out among the wild grass on top. "We went with blankets to beat the fire out. If it had gone out of control, it would have spread to the zotheihuan below," he says. The fire-fight was prompted not just by a new awareness about conservation but by the knowledge that the forest supports human life. The two adjoining zotheihuan cover 200 sq km on Reiek mountain, and the nearly 1,000 houses in the two villages perched on its eastern slope depend entirely on water piped from pools and streams within the forests.
Two valleys and a ridge away at Durtlang, a hill within Aizawl, car-wash owner C Lalthanpuia also depends on a zotheihuan for his living as he pipes water from within the woods on the steep incline. He looks forward to early summer because he has for three years spotted serows grazing on the foliage. The serow, antelope-like with small curved horns, is the official animal of Mizoram. "They start appearing around April, and almost always around 11 am. I sit in the woods the entire day just to catch a glimpse of them," he says, excited that wild animals are to be found within city limits but apprehensive that someone may come and hunt them, hunting being a part of the Mizo tradition.
In pre-modern Mizo animistic belief, a hunter-warrior could attain a coveted status called Thangchhuah and reach paradise in his afterlife if he killed a line-up of wild animals, including bears, bisons and tigers. It is not surprising then that hunting is common among Mizos. Children and teenagers in rural areas still hunt as a pastime, often targeting birds with catapults and trapping smaller animals. It is this area that Bela's friend and constant travel companion, H Lalhmunsiama, focuses on. Famous for being able to mimic 47 different bird calls, he exploits this skill to raise awareness in rural schools. So far, the duo have collected two sacks full of catapults and traps from children who surrender them as a pledge to conserve nature.
In Nagaland's Tuensang district, a small village called Noksen has taken a more drastic step — banning hunting completely in its vicinity. "We hunted stags for food and for sport since the village was established more than seven generations ago. But we began to fear our children and their children may never see these magnificent animals," says village council chairman Langachu.
On January 3, 1988, Noksen's village elders called a meeting and explained the plan, which everyone endorsed; today, more than 11 sq km of land downhill from the village is preserved as a protected area where hunting and tree-felling is banned. Three people who hunted stags were fined Rs 25,000 each, a princely sum for a village that survives on subsistence farming, and where money from eco-tourism has not yet reached, the nearest hotel being almost two hours away by jeepable road in Mokokchung town.
Several hundred kilometres north from Noksen, Idu Mishmi villagers in Delo prepare breakfast, as the bamboo patches nearby resound with screams and hoots. If an Idu Mishmi even so much as witnesses the killing of an Amaepa (as the tribe calls the endangered hoolock gibbon), he heads straight for the jungle to offer a prayer to Golo, the spirit that owns the earth's animals, slashes a tree with his dao (sword), thereby making the tree a witness that he did not partake in the slaughter. He then returns home with the comfort of knowing that the Misu, the hoolock gibbon's spirit, will not haunt him, nor cause unnatural deaths in his family.
If, by accident, an Idu Mishmi kills one, he will exit the jungle, plant two sticks to form an X on the ground and walk home without looking back. As soon as he reaches his house, he will prepare rice beer at the Iduku — where the spirit of the house is believed to reside — and observe a five-day abstinence period.
If a tiger is killed accidentally, the man's village and anyone who happens to visit it at the time will have to observe rituals of cleansing, not just because the tiger too has a spirit that might haunt them, but because the predator is considered man's brother, born of the same mother. Sitting on a bed in a small house that serves as the Wildlife Trust of India (WTI)'s field office in Roing town, Arunachal Pradesh's lower Dibang Valley, biologist Soumya Dasgupta folds his arms to ward off the biting cold from the early January rains. "We are taking this culture and making use of it," he says. An expert in bears and gibbons, Soumya narrates how he and his colleagues rescue animals from human habitats and relocate them into the forests.
In a month, however, they will be doing something entirely different. Instead of relocating the 23 hoolock gibbon families that have been stranded in islands of bamboo clusters within a sea of new agricultural fields in nearby Delo village, the WTI team will nurture bamboo plantations for the expanding gibbon population to flourish on. Relocation, in this case, is unnecessary because the animals are not harmed by the Idu Mishmis who live in the area.
In the Dibang Wildlife Sanctuary in Mishmi hills, a team from the Wildlife Institute of India backed by the National Tiger Conservation Authority has been active with camera traps since December. This is the first official search for tigers in the high-altitude forests where there is, as yet, no scientific evidence of the big cat's existence. Early in January, a camera clicked what appeared to be one. Yet the Idu Mishmis have always talked of tigers, not as game but as relatives not to be harmed, and locals say 17 mithuns (the buffalo-like state animal of Arunachal) have been taken by tigers in the year gone by alone.
For the past decade, they have also flagged another adversary. "There are Tibetan hunters in the border areas, places that take 10 days to reach by trekking from the farthest ITBP post. They kill musk deer and tigers to supply the Chinese tiger parts market," says Jibi Pulu, who runs the Mishmi Hills Resort. He says he became a conservationist after realising that the herds of deer he used to shoot at as a young man hardly appear anymore.
Our last stop, west from the Dibang Valley and Mishmi Hills, is Arunachal Pradesh's Siang Valley, where live the Adi tribesmen. And where the forests and rivers have owners.
Toni Siram, an Adi from Yagrum village, points to a tree in the east, traces the tree-line towards a large boulder in the west, and says, "That's my land. A river runs through it, and that's also mine. If someone else wants to fish in it, he has to seek my permission. On one day each year after the Mani Gidi festival, the whole community can fish there. We don't allow fish to be killed by blowing dynamites or passing electricity in the river. During the breeding season, which starts in August, even I am not allowed to fish in my own river," he says with a chuckle.
The Adis also have a traditional system of ownership over forests. Each clan owns one, and only those from that particular clan can hunt, collect firewood and fell trees in it. Once a year, the community organises a hunt where every male goes into the forests armed with guns and traditional weapons. Every animal hunted is shared. "For us, conservation has been around since our forefathers' time, and we do it by sharing resources," explains Aini Taloh, president of east Siang's Adi Bane Kebang, the women's wing of the Adi's traditional community committees that has governed social life here for centuries. "Each member of a clan is an owner of the forest. That is how we check each other from exploiting it," she says.
In his 1957 book, A Philosophy for NEFA (the North East Frontier Agency being the old designation for what is now Arunachal Pradesh),  anthropologist Verrier Elwin had strongly advocated leaving the care of forests to tribal communities, saying that as they come to realise they are managing their own forests, they will become their custodians. In the forests of the Northeast, Elwin's prophecy is coming true.
For all the latest India News, download Indian Express App