Written by
Shaju Philip
| Thiruvanthapuram |
Updated: August 28, 2014 11:00:57 am
Kerala's Congress-led government has taken up a new liquor policy, ratified Wednesday, which aims at making the state liquor-free in a decade. Certain areas remain undecided, such as what happens to beer and wine parlours and clubs that serve alcohol, but the immediate, most crucial aspect of the policy is a decision to close down all bars in hotels with a rating below five stars. It is a move that has been challenged in court.
It comes in a state that has the country's highest per capita consumption of liquor, 8.3 litres a year. On the flip side has been a series of reports of alcohol-related crimes, often within families, and health issues. Limits on bar hours and blocking of liquor licences for retail outlets and certain bar hotels having failed to end these problems, state Congress president V M Sudheeran has led the liquor-free-state campaign, which culminated in the policy.
The Business and the politics
The IMFL business has thrived in Kerala for decades, starting before it became a state in 1956. The real boost, however, came in 1996 when the state government banned country arrack. From 411 bar hotels then paying an annual licence fee of Rs 10 lakh each, the industry began to grow alongside tourism, with the annual fee reaching Rs 23 lakh last year.
Kerala has 753 licensed bars, of which 418 have remained shut since April, while 312 will be shut on September 12 as a result of the new policy. The licences of seven other bar hotels are pending in court — that case does not relate to the newest policy — while five-star hotels have the remaining 16 licences, the only ones that will survive after September 12.
The decision to close down all other bars has arisen out of an old debate over the evolving standards of bar hotels. Under the first set of norms set in 1956, liquor licences were given to quality restaurants that served a non-Kerala menu and had at least three rooms. In 1980, the Left government stipulated that a hotel seeking a liquor licence should have a restaurant and 10 rooms; in 1985-86, the Congress government gave bar hotels a two-star rating.
The matter of bar hotels being substandard first came up in a 2007 report of the excise department, which recommended that the licences of poor-quality hotels need not be renewed. The then government, however, regularised all licences considering that the 418 bars deemed substandard had been given sanction at various periods based on the then prevailing norms.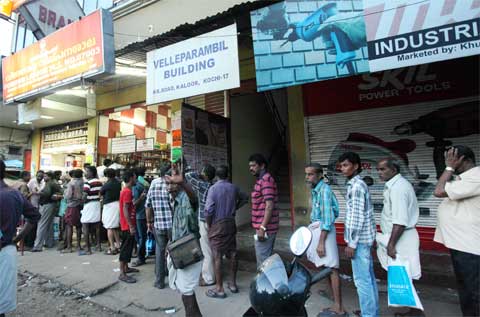 In 2011, the present government introduced a liquor policy that said fresh licences would be given to three-star hotels only up to March 2012, and to four-star hotels only up to March 2013. This set the stage for battle, with a group of three- and four-star hotel owners moving the Supreme Court. In March this year, the court said the government cannot deny liquor licences to four-star and higher-rated hotels until it takes a final decision on the 418 "substandard" hotels. The government dragged its feet over a decision, creating divisions within the Congress and finally leading to the decision to shut down all but a handful of bars.
Court cases
Two cases are pending in the Kerala High Court. One is by a group of bar hotels from among the 418 not granted a licence renewal. Acting on their petition, the division bench had ordered the government to examine the standards of all shut bar hotels and submit a liquor policy. The case comes up next on September 18.
The second case, pending before a single-judge bench of the high court, was moved by another group of bar owners challenging the state government's latest policy.
Policy for toddy
The policy does not ban toddy, tapped from coconut, and whose liquor content is below that of beer. Kerala has 5,900 toddy shops, which are annually auctioned. Those who bid and win often run more than one shop in their respective areas. For want of enough tappers and coconut farmers' reluctance to give up their trees for toddy, several shops are selling spurious liquor. One outlet's business can range between 50 and 350 litres, depending on the season. The new policy says toddy tapping, a traditional profession, will be protected. However, the number of shops will be restricted depending on the availability of coconut trees and tappers.
IMFL outlets
The state has 384 retail outlets selling IMFL, wine and beer, all opened between 1996 and 2011. Of these, 338 are owned by Kerala State Beverages Corporation (Bevco) and the rest by Consumerfed, both government ventures. Bevco supplies liquor to all bar hotels in Kerala.
Following the new liquor policy, the number of outlets will go down by 10 per cent every year. To start with, 39 outlets will be shut this Gandhi Jayanti.
Every Sunday will be a dry day, apart from the existing dry day on the first day of every month.
Alcohol content too will be brought down. Besides, one per cent of Bevco's income will be set aside to create awareness against alcohol. A "Kerala alcohol education research rehabilitation and compensation fund" will be formed to help alcoholics and address their problems.
Elite Clubs
Kerala has 33 elite clubs with a licence to serve liquor, besides 121 hotels, clubs and houseboats with an exclusive beer/wine licence. The new liquor policy has not specified what happens to these, though the government has raised the annual licence fee of beer parlours from Rs 4 lakh to Rs 5 lakh. Bar hotels are already serving beer, but to get an exclusive beer parlour license they will have to make a fresh application after their liquor licence is revoked.
Behind the policy, Congress chief forever 'correcting' his govt
In the seven months he has been Kerala's Congress chief, Vailappully Mama Sudheeran has taken up the role of a man who would correct what he perceived as wrongs within the ruling coalition. It is his unyielding campaign against the renewal of 418 liquor licences since April that has forced the state government to shut down all bars except those at five-star hotels.
In some ways, Sudheeran, 68, has been to the Congress what veteran communist V S Achuthanandan was to the CPM when the Left was in power. Defying the party and the government during 2006-11, Achuthanandan had played the role of a critic within the CPM until he finally toed the party line earlier this year. Like Achuthanandan, Sudheeran too is facing criticism from party leaders who feel he is concerned only about his own image. And like VS, Sudheeran too is popular with the masses. He has often sided with the public in protests against the government over land acquisition and various projects.
Sudheeran's uncompromising attitude to liquor goes back beyond the current campaign. During the 1999 Lok Sabha elections, he had shocked the party by turning down election funds sourced from a bar owner . Recently, he sought an explanation from a Congress-ruled municipal council that had allowed a new liquor bar. For organisational elections within the party, Sudheeran's diktat has been that no one who drinks should be elected an office-bearer. His appointment as state party president had faced opposition.
When the late K Karunakaran was chief minister, Sudheeran as assembly speaker (1985-87) had taken the government to task for promulgating ordinances rather than presenting bills in the assembly. In 1991, A K Antony suggested Sudheeran for the cabinet but Karunakaran wouldn't have him. During the ISRO spy scandal, Sudheeran approached the high command seeking Karunakaran's removal. When the opposition moved a non-confidence motion against Karunkaran, Sudheeran skipped voting.
Sudheeran has thrice been the MP from Alappuzha, home turf of prominent leader Vellappally Nateshan who had declared he would defeat Sudheeran because of his stand against liquor.
BAR the BOTTLE: how states fared
Gujarat
Prohibition has been in place ever since statehood in 1960, first under Bombay Prohibition Act, 1949, and now under the Gujarat Prohibition Act, 2011, following several amendments. The latest version, which followed 150 deaths caused by hooch in Ahmedabad in 2009, includes the death penalty for those found guilty of making and selling spurious liquor. The law allows for temporary and long-term drinking permits to foreigners, NRIs and tourists, with outlets and purchase limits specified. A resident can get a permit only on health grounds. At special economic zones, the government allows consumption against three-year permits. Every city, however, has bootleggers and an illegal interstate business thrives, estimated at around Rs 1,500 crore annually.
Mizoram
Total prohibition for 18 years, relaxed by a new law in July. Rules allowing regulated sale and consumption of alcohol being framed, liquor shops and bars may take a few more months to open. Government figures show high seizures of alcohol and several arrests of bootleggers and drunkards between 1995 and the end of the first quarter this year. Opponents of prohibition say these show prohibition has been a "failure" and has done little to reduce the availability of alcohol.
Andhra Pradesh
Experimented with prohibition from 1994 to 1997. Following a movement by women who vandalised liquor shops and beat up people drinking in public, N T Rama Rao promised prohibition, won elections from that plank and kept the promise after becoming CM in January 1995. The experiment failed. "Though consumption by the poor came down drastically, there were many leaks. It also led to corruption in police, administration and politics and liquor was available although in very limited quantities,'' says Lok Satta Party president Jayprakash Narayan. CM Chandrababu Naidu, who ousted NTR in 1995, got a bill passed that permitted IMFL but kept arrack banned. Two years and several costly welfare schemes later, prohibition was lifted.
Haryana
Hours after taking over in 1996, chief minister Bansi Lal imposed prohibition. In the very first year, estimates say, revenues dropped Rs 1,200 crore, ruling party leaders started voicing protests, and women complained about their husbands deserting their homes for places where they could drink. More than a lakh cases were registered, thousands of vehicles impounded, lakhs of bottles recovered and destroyed, but illicit brewing and smuggling continued, and drugs made their way into the state. The government withdrew prohibition after 19 months.
Nagaland
The Nagaland Total Liquor Prohibition Act, 1989, followed a movement launched by Naga Mothers' Association (NMA) and church bodies. It exempts prohibition for traditional liquor forms 'Zu' and 'Rohi'. The Army and paramilitary forces too are exempted under an amendment of 1995. From Rs 600 lakh in 1988-89, liquor-related revenue has fallen to about Rs 250 lakh a year. However, liquor is clandestinely available all over the state, with reports of seizure of liquor coming in regularly. In 2013, CM Neiphiu Rio (now a Lok Sabha MP) admitted in the assembly that prohibition has been a failure.
— ENS team from various centres
For all the latest India News, download Indian Express App