Jitendra Singh's remark on Article 370 can divide J&K, trigger partition:PDP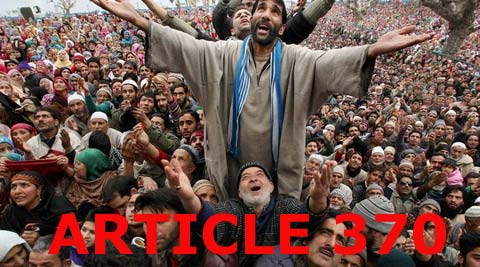 Jitendra Singh had stated that the process of abrogating Article 370 has begun.
Opposition PDP chief and Anantnag MP Mehbooba Mufti on Wednesday condemned the statement of Minister of State in the Prime Minister's Office Jitendra Singh, saying it has the potential to divide Jammu and Kashmir on communal lines and trigger another partition.
"Though the minister has retracted it, we still condemn the statement because there were apprehensions that the BJP government, especially with (Prime Minister Narendra) Modi, will be divisive. But the PM had made a very good start by inviting SAARC leaders to the swearing-in ceremony.
Singh had stated that the process of abrogating Article 370 has begun and the government was discussing the issue with several stakeholders in Jammu and Kashmir.
"He tried to connect with the neighbours in spite of many problems and conflicts, so we appreciated that. Whereas the PM was on one hand trying to connect with the neighbours and was having talks with (Pakistan Prime Minister) Nawaz Sharif, and it was a reconciliatory measure, on the other hand, his minister issued a statement which has a potential to divide the state of Jammu and Kashmir on communal lines," Mehbooba told reporters here.
She said that even in the past lot of efforts were made by many leaders to abolish the Article 370.
"I hope this is the last time we are hearing about its abolition. With such statements, unfortunately, we are moving towards another partition and division," Mehbooba said.
The PDP chief noted that in the past many jurists and experts told leaders that Article 370 cannot be touched because it is the basis of the relationship of the state with the rest of the country.
"If you try to fiddle with it, that means you will have to re-negotiate a new relationship with the people of Jammu and Kashmir. You will have to ask the people about their decision then. That means you are giving a choice to the people of J&K that they have to re-negotiate about their future. You are giving them a choice, a chance. Is BJP ready to do that? I do not think so," she said.
Mehbooba said if Article 370 has to be discussed, the BJP should figure out ways to strengthen it.
"They (BJP) should discuss how to give more administrative powers, more share in the civil services, compensation on water resources, our own elected governor," she said.
The PDP chief expressed hope that the Prime Minister will intervene in the matter and assure the people of the state that no power can play with their dignity and honour.
"If BJP wants to bring the people of the state closer, they should talk about strengthening Article 370 rather than abolishing it.
"I hope the PM intervenes and reassures the people of the state that no power on this Earth is going to play with the dignity and the honour of the …continued »