Admiral D K Joshi resigned as Navy Chief Wednesday following a spate of accidents that had raised serious questions about the safety record of the force, becoming the first armed forces chief to quit since Independence.
The resignation came hours after an accident on board the INS Sindhuratna submarine in which two officers were feared killed after one of its compartments was filled with smoke during a sea trial Wednesday morning.
Sources said Defence Minister A K Antony summoned Joshi seeking an explanation for the latest incident and Joshi is believed to have offered to resign, taking moral responsibility. 
Following the meeting, Antony met the Prime Minister and the President to apprise them of the matter. By evening, the ministry said it had accepted the resignation and made a public announcement after informing Vice Admiral R K Dhowan he would be taking charge with immediate effect pending the appointment of a regular chief over the next few weeks.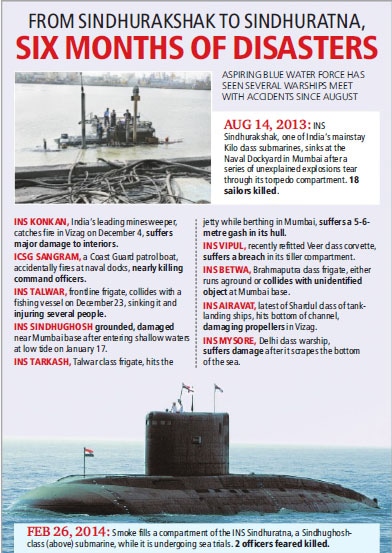 What ails the Indian Navy: 10 mishaps that led to the Navy Chief's resignation
"I have the honour to refer to recent incidents/accidents during the past few months that have impacted the professional image of the Navy. While the government has continued to repose its fullest trust and confidence in the service, I consider my continuation as Chief of the Naval Staff as untenable," Joshi wrote in his resignation letter.
"In the interests of accountability, I therefore accept fullest moral responsibility for the above mentioned accidents/incidents and hence I have…to resign from immediate effect (sic)," he said.
Sources said it was not just the Navy's safety record but even the handling of the accidents had come under a cloud. More than 500 officers were suddenly ordered to be transferred by the Navy Chief last month in what was termed as a "transfer tsunami", leading to strong displeasure among the cadre, and several captains of warships that had faced accidents were removed, changing the entire future senior hierarchy of the force.
In the months before Joshi's resignation, a deep wedge had emerged between him and the defence ministry, triggered by the accidents but also relating to what is said to be a lack of communication by the force headquarters with its civilian counterparts.
Sources said several factors had led to a growing dissatisfaction with the top officer. The defence ministry had been disappointed that the Navy was not accurately sharing details of the several incidents that had taken place on board warships.
While the norm has been that major developments – incidents at sea or personnel issues – are reported to the ministry, information was allegedly blocked under Joshi and on many occasions, the first information received by civilian officials was through media …continued »